Bar
Champions League: Brose Bamberg risks failing to qualify for the playoffs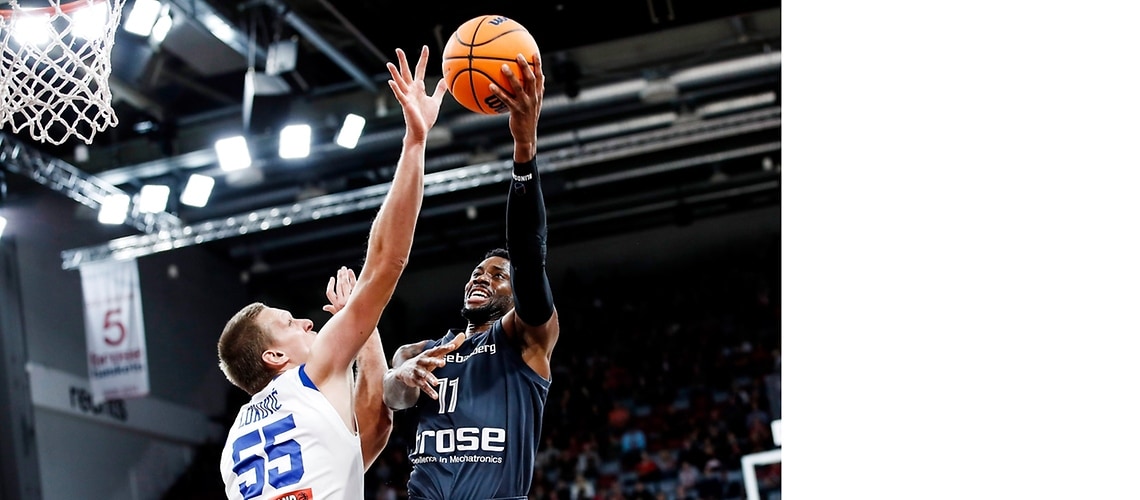 Bar, 01-14-2020
Brose Bamberg has suffered its next setback: The team of Head Coach Roel Moors went down to its sixth defeat in the Champions League, this time to the Montenegrin club Mornar Bar, despite coming from 63:73 behind in the last three minutes to trail by just 71:73. However, a bucket from downtown by the opposing side with 11 seconds left on the clock quashed Bamberg's chances of winning and it finally lost by 73:77.
The loss means Brose Bamberg faces the threat of not qualifying for the Round of Sixteen: If Peristeri Winmasters win on the road in Novgorod on Wednesday evening, Moors' side cannot reach the playoffs even if it wins all its remaining games, but will have to rely on help from other teams. If Novgorod wins, Bamberg's encounter on the road in Peristeri in two weeks' time will likely decide who finishes fourth in the group. As in the game against Gaziantep last week, Bamberg got off to a weak start: Louis Olinde put his side's first points on the board with a free throw after two-and-a-half minutes, by which time Bar had scored on each of its first four attacks to surge 0:9 ahead. It was only when Head Coach Moors substituted Retin Obasohan, Bryce Taylor, Tre McLean and Darion Atkins and so almost all his starting five with the score at 7:20 and three minutes left in the period that some zest was injected into Bamberg's play. With the score at 18:25, threes by Bryce Taylor (11 points up to half-time) and a slam-dunk by Elias Harris to equalize (25:25) enabled Bamberg to keep the game in the balance at 40:40 shortly before the break. However, two careless mistakes in defense meant it went in trailing by 41:45.
The encounter was a pretty placid affair up to midway through the final period, as neither team was able to capitalize on the other's weak shooting. Nor was Bamberg able to exploit what may well be a record number of offensive rebounds it snapped up – 20 in total! – to take the lead. In particular playmaker Paris Lee – with zero points off nine shots and just a single assist – had a dismal day, while Bryce Taylor failed to drain anything after a good first half. With three minutes to go and his team trailing by ten points (63:73), Moors brought off the weak Lee. Playmaker Retin Obasohan (20 points) vehemently tried to avert defeat, stole possession twice, set up Olinde and Sengfelder in magnificent fashion, and made a slam-dunk and a three, with the result that Bamberg was suddenly in close contention at 71:73 with 45 seconds left. However, Bar skillfully exploited a foul by Bamberg, ran down the clock and drained the crucial three to make it 71:76 with 11 seconds remaining. Apart from Obasohan, only Darion Atkins (10 points) produced a reasonably impressive display – and that was too little against Bar.
Brose Bamberg's Head Coach Roel Moors commented: "We started poorly and found it difficult to get into our stride. But we fought our way into the game and had a few chances to turn it around in our favor. Unfortunately, we didn't manage to do so. All in all, we didn't shoot well enough to really have a chance to win – even though the 20 offensive rebounds showed we wanted to."
Brose Bamberg now welcomes RASTA Vechta in the easyCredit German Basketball League on Sunday, January 19, 2020 (tip-off: 6 p.m.). It is an important duel, since both clubs are seventh and eighth respectively, with eight wins and six losses apiece.
For more information visit www.brosebamberg.de, www.easycredit-bbl.de and http://www.championsleague.basketball/de.