Bamberg
Champions League: Brose Bamberg wins 83:68 to remain unbeaten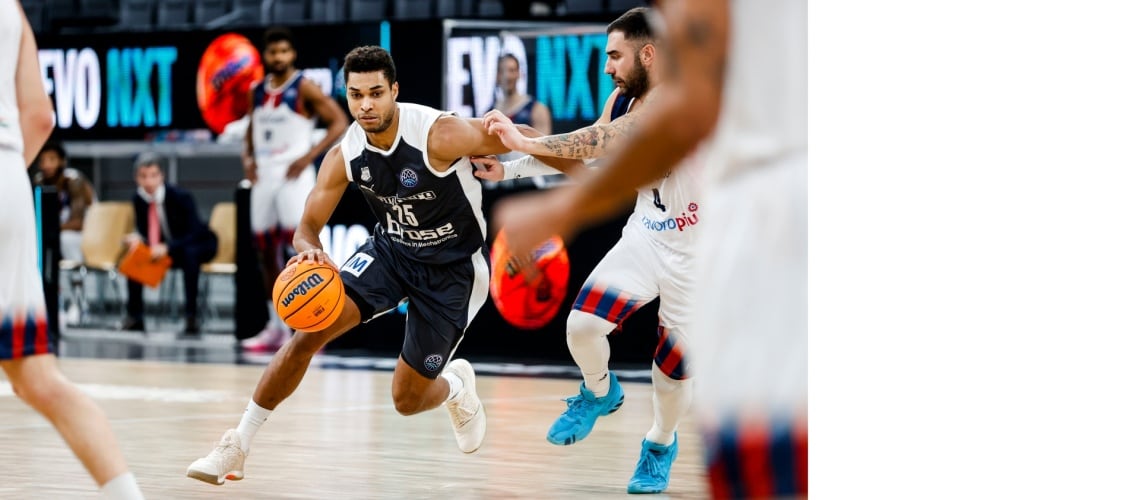 Bamberg, 01-27-2021
Brose Bamberg notched up a comfortable 83:68 victory in its final group game at home against Fortitudo Bologna and so is the only undefeated team in the Champions League. It also has the best defensive record in the competition to date, conceding an average of just 71.5 points in its six group games – far less than its nearest rival.
Since it was certain where both teams would finish in the table going into the game and Bamberg would have to play again in the German league on Friday, Head Coach Johan Roijakkers mainly gave his "second string" time on court and rested his key players. The upshot was all sorts of unusual lineups – like the starting five of Chase Fieler, David Kravish, Joanic Grüttner, Dominik Lockhart and new signing Alex Ruoff, which quickly gave their side a 7:1 lead. However, Bamberg then lacked the necessary bite and resolve and missed easy shots. Bologna was able to close the deficit to 16:14 at the end of the first period and even leave the home side trailing 24:26 in the second. An unusual quintet turned the encounter around: Bennet Hundt, Joanic Grüttner, Kenneth Ogbe, Mateo Seric, and Shevon Thompson as center. And each of them got on the scoresheet: A slam-dunk by Thompson, a three by Mateo Seric, a layup and bonus free throw from Ogbe, a lay-up from Grüttner, and a bucket from downtown by Hundt helped Bamberg overwhelm the Italian club with a run of 15 points without reply and take its highest lead (39:26). However, Bamberg missed too many shots and conceded too many turnovers in the final two minutes and so went in at the break only 39:36 ahead.
The encounter was still evenly poised up to midway through the third period (45:44), but then Bamberg quickly sealed victory: Buckets from beyond the arc by Rouff and Vitali, a lay-up by Fieler and three points from Devon Hall made it 56:44. In particular, Ruoff proved that he has settled in quickly as playmaker, showed a great eye in making six assists, and gave his shooters more time for open shots thanks to his quick passing. After further threes by Ruoff and Devon Hall, Mateo Seric made a block in defense and went down the other end to add a lay-up to bring the quarter to a close (66:51). Seric, whom Coach Roijakkers had given just six minutes on court the whole season up to then, demonstrated his credentials with a strong shooting percentage (75% from the floor) and good defending. Bamberg played out the game without any great effort in the final period.
Johan Roijakkers commented: "I'm very pleased and happy for my team and the whole organization that we've captured another win and so finished the group unbeaten. We had two objectives in this game: to remain undefeated at home and spread the time on court, since we knew that we would have a tough and important game in the domestic league two days later. We succeeded in achieving both. All in all, we did a good job."
Brose Bamberg now plays BG Göttingen on the road on Friday evening, January 29, 2021 (tip-off 8:30 p.m.). The game has been brought forward one day due to the fact that a bomb has to be defused and the center of Göttingen evacuated by way of precaution on Saturday.