Coburg
Classical Open Air with the greatest masterpieces of film music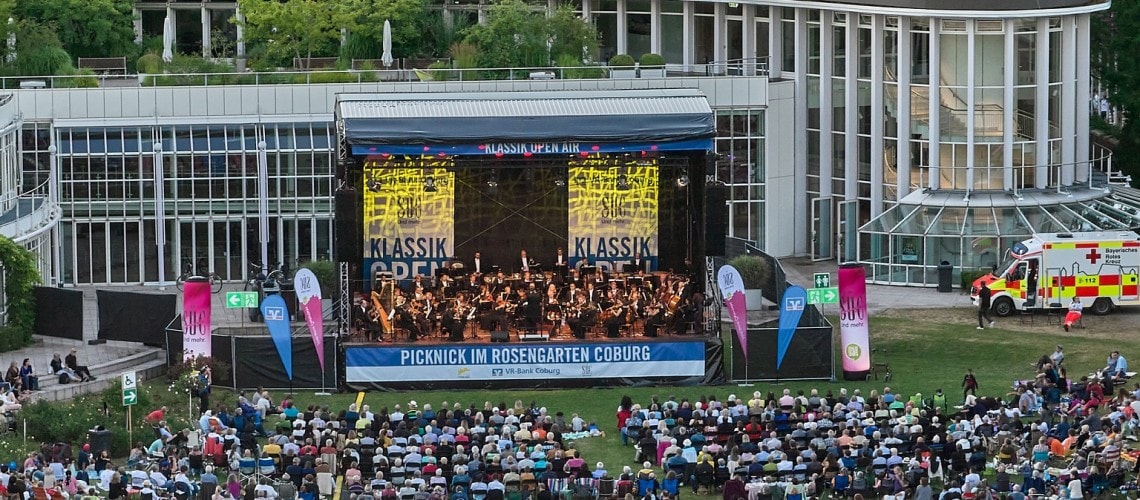 Coburg, 06-29-2023
On Saturday, 1 July from 8:30 pm it's time again for one of the region's most popular cultural events: the Classical Open Air organised by Coburg Marketing and the Landestheater Coburg with the Philharmonic Orchestra Landestheater Coburg takes place in the Rose Garden. And this time it will not only be a programme for classical music fans and friends of long summer evenings with picnics and live music, but also a festival for cineastes. For General Music Director Daniel Carter has put together a programme with the most famous pieces of film music from the pen of Oscar and Grammy winner John Williams. From "Harry Potter" to "Star Wars" and "E.T." to "Schindler's List", the audience can expect a dense sequence of well-known melodies and unforgettable masterpieces of film history, which Daniel Carter will introduce in his usual entertaining manner. Admission to the concert is free.
The American composer John Williams has been one of the world's most important film composers since the 1970s. He has often worked with Steven Spielberg, but also with directors such as George Lucas and Alfred Hitchcock.
During his time at the Freiburg Theatre, Daniel Carter had already established a film music series.
"There is simply an incredible amount of good music in films, which is often not even consciously perceived behind the impressive images on the screen. And celebrating this music for once is what the John Williams programme is all about. Williams is simply a fantastic composer of orchestral music, distinguished by great craftsmanship and a wide variety of styles. His compositions are truly virtuosic." So it's non-stop through the decades of film history with titles from "Indiana Jones", "Jurassic Park" or "Jaws".
Special guests of the evening are the young musicians of the participatory concert under the direction of Wolfgang Lischke - former bandmaster with the Beethoven Orchestra in Bonn, for some years now music teacher at the Casimirianum Coburg. Once a year, the Philharmonisches Orchester Landestheater Coburg gives young talented children and young people the opportunity to play an evening-long concert in its ranks. This season, among other things, a James Bond medley by Victor Lopez was rehearsed and performed in the Großes Haus, which is to be presented once again in this thematically appropriate setting.
The Klassik-Open-Air will take place in the Rose Garden at the Kongresshaus with free admission and free seating.
Drinks and snacks will be available on site, but you may also bring your own.Expect an unforgettable evening with an opulent and popular programme."Before moving to the GLOBE COBURG, we want to let it rip one more time," says Daniel Carter.