Coburg
Coburg defeats OrangeAcademy Ulm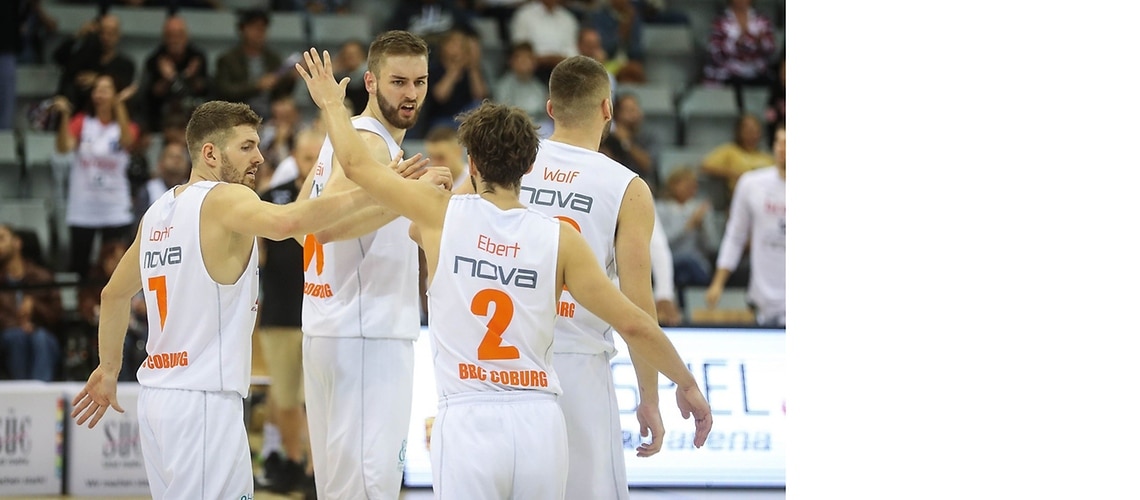 Coburg, 01-19-2020
BBC Coburg remains undefeated in its first three games of 2020 in the BARMER ProB South 2nd German Basketball League: The team of Head Coach Ulf Schabacker beat OrangeAcademy Ulm 93:70 (55:39) with a commanding display on Sunday afternoon to strengthen its grip on third place in the table.
The victory means that Coburg's goal of qualifying for the playoffs for the first time is within grasp: It has a five-win advantage over the team in ninth with six games remaining in the season and so can gradually start planning for the quarter-finals.
The 800 fans in the arena at the Lauterer Höhe saw an evenly balanced opening period on Sunday afternoon, with both teams showing attractive, attacking basketball. Whereas Coburg's guard Constantin Ebert in particular produced a strong performance, scoring eight points, the visitors' new signing Joe Rosga blended into his side right away by draining two buckets from downtown. Nevertheless, the home side was 22:18 ahead at the end of the quarter.
The second period began just as Ulf Schabacker would have wanted: Tidjan Keita scored five points in the space of 27 seconds, forcing the visitors' Head Coach Anton Gavel to call his first timeout. Yet it was mainly Coburg that benefited from that and managed to pull away point by point. Captain Christopher Wolf set up Daniel Urbano to make it 37:20 in the 13th minute and a little later Ebert passed to Sven Lorber, who drained the three (47:29) – Coburg now had the game fully under control and went in at half-time with a deserved 55:39 advantage.
The BBC's engine stuttered in offense shortly after the break, but Daniel Urbano then revved it up again: The forward snapped up rebounds under the opponents' board and capitalized on the second chance to score, among other things to make it 62:47 in the 25th minute. When Princeton Onwas added a slam-dunk on a fast break shortly afterwards, Gavel had to call another timeout. And this time the visitors managed to translate their Head Coach's words into action. Ulm struck back to reduce the deficit to ten points shortly before the end of the period (68:58, in the 29th minute). However, Onwas scored in the final second of the quarter to put his side 72:58 in front going into the final ten minutes.
And Coburg then proceeded to put on a great display: First of all, Keita drained his third bucket from beyond the arc (81:59) and then added an alley-oop barely 20 seconds later. The BBC was now right back in its element, once more built up the necessary pressure in defense, too, and exploited its chances on fast breaks. When Ebert made it 89:59 with five-and-a-half minutes remaining, the game was decided.
"At long last we've won at home again and all the players had time on court – what more could a coach want?" said a delighted Schabacker. "We more or less reached the playoffs today – we have the self-confidence to say that we'll capture the one victory we need to make sure of that." The Head Coach was especially pleased about the evenly balanced caliber of his team: "Princeton Onwas had a magnificent game, despite only making two points in the first half. He's a true professional and has the game under control. That rubs off on the team."