Coburg
Coburg loses 90:94 after Würzburg turns the game around in the final period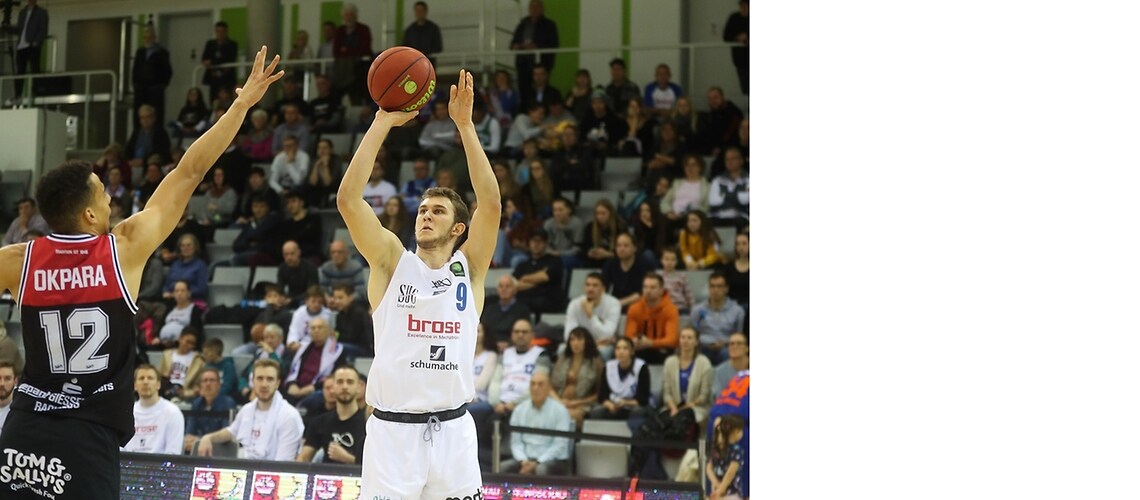 Coburg, 02-02-2020
Coburg got off to a good start: The Frenchman Tidjan Keita took over the captaincy from Christopher Wolf (who has a fractured finger) in the starting five and blended in well right away. However, it was – of all people – the former Würzburg players who stamped their mark on the opening spell: Constantin Ebert and Daniel Urbano teamed up to put their club 19:11 in front after just five minutes.
Both teams played at a pretty swift pace, but the first period revealed an aspect that was to repeatedly cause Coburg problems in the course of the game: It was unable to switch quickly from attack to defense and so Würzburg kept on adding easy points on fast breaks. The 26:22 lead at the end of the first quarter could have been even higher and when the visitors overtook Coburg a little later, the game threatened to tilt their way. However, things then went better for the BBC in attack again: Keita added a slam-dunk and Sven Lorber made it 49:39 on a fast break to force Würzburg to call a timeout in the 17th minute. Coburg went in at half-time leading by 56:49.
And things continued to go well after the break: The BBC stretched its lead once more and slowly pulled away. Constantin Ebert drained a bucket from downtown to give his side its widest advantage of the evening (65:54). Yet it was to remain its highest lead.
Würzburg now began a run, was not disconcerted by a Coburg timeout and equalized within two minutes (65:65). A truly nail-biting affair now ensued, as both sides went into the final period with the scores tied at 74:74.
Slowly but surely, it now became clear that Coburg was missing its injured captain Wolf, as well as the youngster Nico Wenzl, who had school commitments. Three players were longer than 35 minutes on court: Ebert, Keita and Princeton Onwas, who again turned in an outstanding performance.
Coburg produced a 9:3 run to open up an 84:78 advantage, but the visitors struck back with two buckets from beyond the arc to equalize again midway through the period. When Keita made an alley-oop after an assist by Jevon Perschnick, the arena went delirious. The fans also contributed greatly to Würzburg's growing nervousness from the foul line: Stechmann, Pipiras and Hunt drained a combined total of just one of six free throws and Albus also missed one – yet Coburg was no longer able to break down Würzburg's defense. A fatal bad pass by Keita to Stechmann with Coburg trailing by 88:91 and half a minute to go then sealed defeat.
"It's the worst thing for a team when you score and then, whoosh, you concede a bucket right away. That's a killer," said Coburg's Head Coach Ulf Schabacker about his players' careless defending. "That's a question of attitude and my team deserves to be criticized for letting that happen." Constantin Ebert was also unhappy afterwards: "We didn't come to terms with how Würzburg switched from defense to attack in the second half. We have to work on that."