Sulingen
Dominik Dinkel on podium in Sulingen despite puncture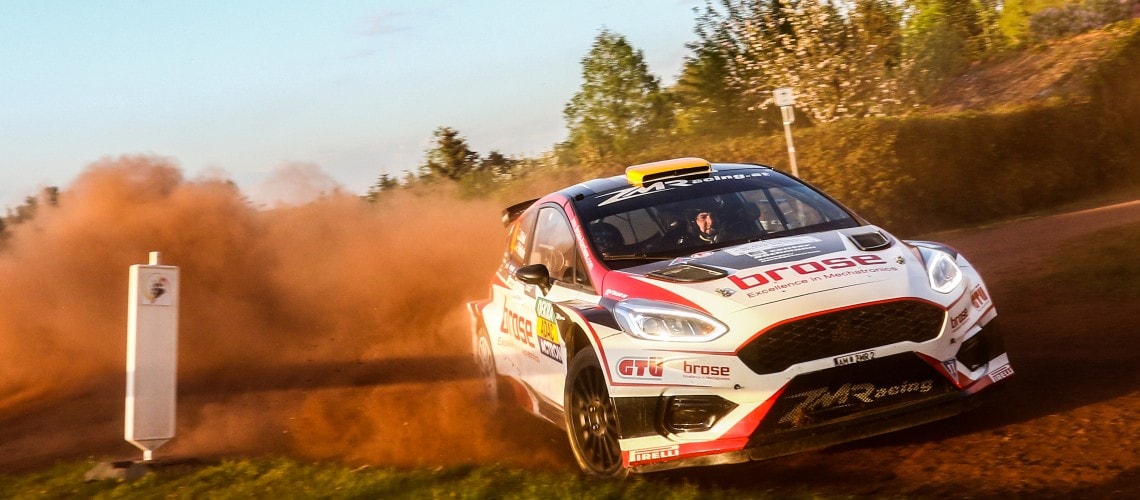 Sulingen, 05-07-2022
The feelings of the Brose Rally Team Dominik Dinkel / Pirmin Winklhofer are mixed after third place overall at the "33rd ADAC ACTRONICS Rally Sulingen". The joy about their first podium finish in the current season of the German Rally Championship (DRM) is offset by the knowledge that more would have been possible in Lower Saxony if the 13 special stages over 158.8 kilometres had gone perfectly.
The start of the second DRM round was promising. The Brose Rally Team immediately found a good rhythm, on SS 2 they set the best time with their Ford Fiesta Rally2. But on the very next special stage, they suffered a setback in the form of a puncture. "In the middle of the 14.5 kilometre long SS Dahlskamp, the air was out on the right rear and later we had to drag ourselves to the finish on the bare rim. At least 30 seconds were lost that way. We can't explain why the damage occurred, but we definitely didn't hit anything," Dominik Dinkel explained. However, the incident means a drop from second to fourth place in the overall standings, the difference to the leader, which had been only one tenth after SS2, is now just under 30 seconds.
Saturday was all about trying to catch up. Initially, this was successful, even though the tyres chosen were a little too hard and produced braking understeer until the optimum temperature was reached. Nevertheless, the next best time is due on SS8. Then, at the start of the longest special stage, Eickhofer Heide, rain set in and created a treacherous film of grease. Despite the hard slicks that were fitted, the Brose Rally Team managed the second best mark. "While the standing dust was a real disruptive factor yesterday, the weather is the big unknown today," Dominik Dinkel explains.
For the last loop, the Brose Rally Team is relying on crossed mixed tyres. Curiously, as it pours in some places and is completely dry in others, this supposed trump card doesn't work. Dominik Dinkel and co-driver Pirmin Winklhofer finished the Sulingen Rally in third place overall. Their conclusion is self-critical and positive at the same time: "The necessary speed is certainly there. Apart from the puncture, we always delivered top-three times and were the best on three special stages. In addition, we still see room for detail improvements on ourselves. We are now a solid third in the DRM, our chances of winning the title are intact and our ambitions and motivation remain high.