Rossach
Dominik Dinkel starts the new DRM season with fourth place
Dominik Dinkel starts the new DRM season with fourth place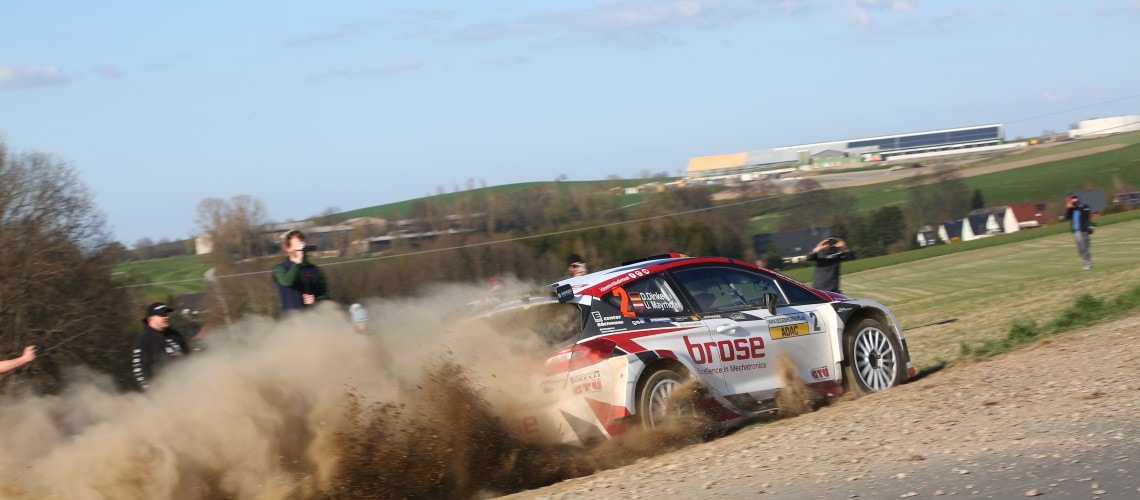 Rossach , 04-25-2022
Even though the team did not achieve its target result at the opening round of the 2022 German Rally Championship (DRM) with fourth place overall at the "57th ADAC Rally Erzgebirge", the Brose Rally Team led by driver Dominik Dinkel is anything but gloomy.
The 29-year-old driver from Upper Franconia explains why: "After our overall victory at the Easter Rally Tiefenbach, we arrived at the Rally Erzgebirge with a good feeling. On the ten special stages (SS) we set six top-three times, we won two SS. Maybe it was even three", Dominik Dinkel concludes with a laugh. With this he alludes to the confusion of results after the first special stage, which initially saw the Brose Rally Team in the lead and later ranked them second with a minimal gap.
On the second special stage of Friday, their otherwise perfectly functioning Ford Fiesta Rally2 unexpectedly experienced a problem. After 500 metres, the left rear shock absorber completely stopped working. This forces them to reduce their speed, losing about 10 to 15 seconds. Dominik Dinkel is now fifth, 12.2 seconds behind the rally leader. Saturday starts perfectly, with a clear best time on SS 3. On the next three stages, the Brose Rally Team is also up among the front runners. Until the second run on the Grünhain circuit (SS7). "When we came back from the first lap, a slower R5 car was started into the course directly in front of us, which we immediately caught up with. Unfortunately, despite all our efforts to draw his attention to us, this competitor simply did not notice us. Since overtaking on the narrow tracks is only possible in cooperation with the car in front, we had no choice but to follow dutifully for two laps, despite our thick necks, which earned us another unnecessary 10 to 20 extra seconds. But I didn't want to risk a riot with a possible retirement at the beginning of the season," Dominik Dinkel explained. He preferred to secure four additional DRM points for the second-best time on the following Power Stage and also won SS 9 before switching to securing the result.
Dominik Dinkel's balance is positive: "Apart from the two problems described above, which cost us a safe podium position, we drove a good rally, our speed was right, in the end we were less than 30 seconds behind the winner. Co-driver Ursula Mayrhofer, who stood in for Pirmin Winklhofer, who was not available due to his wedding, did a perfect job, as did the ZM Racing crew. The gap to the DRM leader is less than ten points. There are still six rallies to go, so there can and will be a lot more to come." Maybe in a fortnight' time at the Rally Sulingen. The Brose Rally Team will be as highly motivated as ever.