Rossach
DRM: Spin denies Dominik Dinkel another podium finish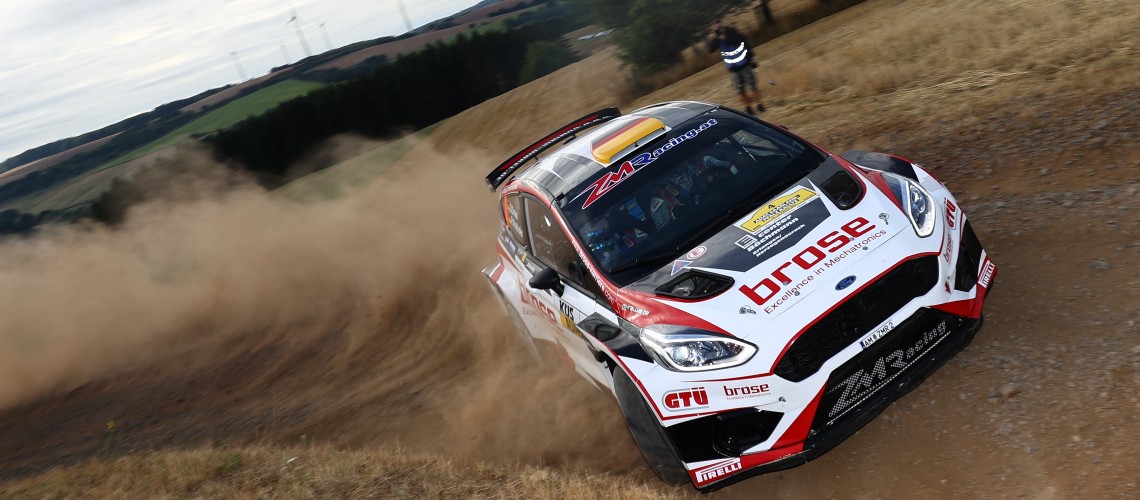 Rossach, 08-21-2022
"Unfortunately, those who dare do not always win." This was the realization that the Brose Rally Team Dominik Dinkel / Pirmin Winklhofer had to take home with them from the ADAC Saarland-Pfalz Rally. An annoying spin prevented a possible further podium finish at the fifth round of the German Rally Championship (DRM).
After a six-week summer break, things had started well on Friday evening. Dominik Dinkel and Pirmin Winklhofer won one of the four special stages around St. Wendel and were the second, third and fourth fastest teams. This meant fourth place overall with a 3.3-second gap to the leader. After 37.04 of a total of 142.18 special stage kilometers, the lead over the nearest rival was already 20.3 seconds. This shows how hard the leading quartet fought for every tenth of a second.
On Saturday morning the top four continued to accelerate unconditionally. The Brose Rally Team maintained its position, the gap to the leader was less than five seconds. After Service C in St. Wendel, four special stages were on the agenda which had to be completed twice, interrupted by Service D. The team was then in the lead by less than five seconds. "We now felt really comfortable in the car again. That's why we decided to attack more. But at a transition from gravel to asphalt it was a bit too much, we spun and even had to maneuver to continue in the right direction" reports Dominik Dinkel. The 29-year-old from Upper Franconia continues: "Our mood slipped into the cellar after the incident. On the very next stage we got another damper. At around 170 km/h, the shaft strip of my door window made itself independent, which subsequently took on an irritating life of its own." The Brose Rally Team had to cope with this for two more special stages, then it was time for Service D.
"We used that for a double reset. Once with the Brose Fiesta, which the ZM Racing team brought back into absolute top form. And secondly with ourselves. We were able to forget the hassle and set appealing times on the remaining WPs. Eight times we were among the top three, and despite the problems we were able to secure fourth place overall. This, combined with new discoveries about the car and fresh setup ideas in the back of our minds, makes us confident going into the final spurt of the season, in which we want to prove our skills and speed with the best possible motivation. To achieve this, we are all willing to work hard in preparation." Those are the words of Dominik Dinkel, Pirmin Winklhofer and the ZM Racing crew for the next events.