Włocławek
FIBA Europe Cup: Brose Bamberg through to quarter-finals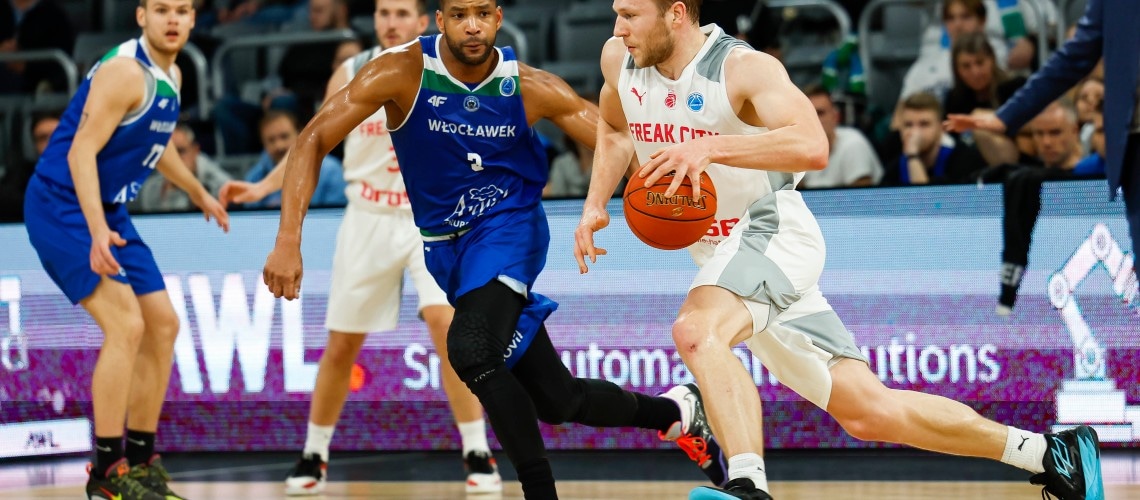 Włocławek, 02-08-2023
Brose Bamberg is in the round of the best eight teams of the FIBA Europe Cup! In the "knockout" game at the Polish team of Anwil Włocławek, the team of coach Oren Amiel won narrowly but deservedly with 90:86! Even an interim ten-point deficit did not deter the Bamberg team, which immediately turned up the heat and regained the lead with a 12:0 run.
"Do or Die" was the starting position for Bamberg before the game - Włocławek was already qualified for the quarterfinals, a loss would have eliminated Bamberg due to Oradea's parallel win. Bamberg started well into the game, after five points from Christian Sengfelder the guests led 7:2 in the "Hall of Champions". With the substitution of playmaker Philipp Greene, the hosts got better into the game and took advantage of Bamberg's ball losses until the end of the quarter at 20:27. Gabriel Chachashvili in particular turned up - the center grabbed a few offensive rebounds in front and passed the ball smartly to his teammates. With three of his five assists, the Israeli laid the foundation for the Bamberg team's 12:0 run, which gave them the 32:30 lead. With a long pass, playmaker Patrick Miller served Chachashvili, who scored with a thunderous dunk to make it 47:44. With seven seconds left in the quarter, Włocławek had the ball at 71:71 when Gerel Simmons stole the ball from playmaker Lee Moore and finished the quarter for Bamberg's 73:71 lead. It was the last lead change of the game. Bamberg now pulled away to as many as seven points and in the end played the game down in a routine manner despite the tension. Amir Bell put the lid on it 20 seconds before the end with a difficult half-distance shot.
Oren Amiel (head coach Brose Bamberg): "We knew it would be a battle. They play very physical, we were aware of that. After a rather lean first quarter in terms of defense, we caught ourselves and made some adjustments. We then maintained this defensive level well for the rest of the game. In the end, different players hit difficult throws and showed crucial defensive sequences."
On Sunday, February 12, 2023, Brose Bamberg will be challenged away at Fraport Skyliners Frankfurt, Jump is at 3 pm. Bamberg won the first leg against the relegation-threatened Hesse 100:83.
For more information, visit www.brosebamberg.de and www.easycredit-bbl.de.