St. Wendel
German Rally Championship: Dominik Dinkel in 3rd place in Saarland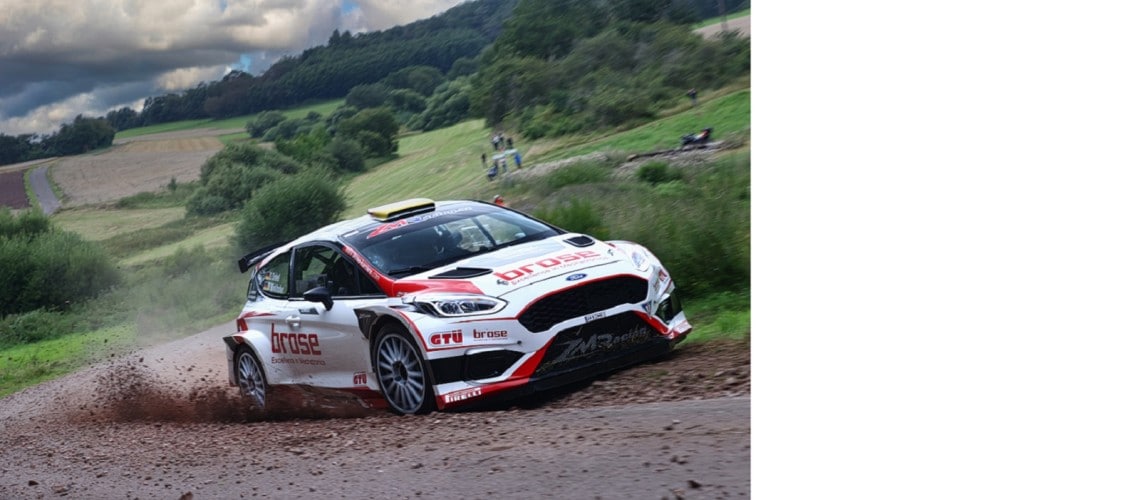 St. Wendel, 08-22-2021
The Brose Rally Team Dinkel/Winklhofer in the Ford Fiesta Rally2 was only 18.4 seconds behind the winner at the Saarland-Pfalz Rally. Third place after 12 special stages over 112.4 kilometers.
"Per special stage kilometer, that's only 17 hundredths of a second that was missing for an even better result" Dominik Dinkel (28) is well aware. Together with co-driver Pirmin Winklhofer, they are now working on an exact, comprehensive analysis of what happened at the second round of the German Rally Championship (DRM).
Initial findings are already available. "After our opening victory at the Rally Stemweder Berg in June, which gave us the DRM lead, we approached the four Friday stages a little too safety-conscious. That's how we ended up with most of our deficit. For the first loop on Saturday, we had relied on soft tires, which subsequently turned out not to be the best choice. After that we concentrated more on finishing the rally without making any mistakes, which we did very well with fast times. Third place overall is a solid result that added 23 more points to our DRM account. After all, 12 other RC2 cars started at the Saarland-Pfalz Rally, some of them with very well-known, experienced drivers such as Timo Bernhard, Albert von Thurn und Taxis or the Dane Christian Poulsen."
The Brose Rally Team is by no means satisfied with finding the aforementioned minor weaknesses. "We're continuing to work hard, fine-tuning details as well. We're doing this on two tracks. On the one hand, I'm working my way through all the on-board recordings with Pirmin Winklhofer, while ZM-Racing is meticulously evaluating the complete data recordings of our Fiesta. We are absolutely optimistic that these steps will provide us with starting points for optimization, which we will be able to incorporate as early as September 10 and 11 at the Cimbern Rally, the next round of the DRM," explains Dominik Dinkel.
The Brose Rally Team's goal remains to win the DRM, in which it is now in second position. It is only six points behind the leader, which is not a worryingly large gap with a maximum of 35 points to be awarded per round. "In the three DRM rallies still to come, ZM-Racing, Pirmin and myself will give everything to be right at the front at the end of the season" says Dinkel.