Bayreuth
HEROES OF TOMORROW lose narrowly to Berlin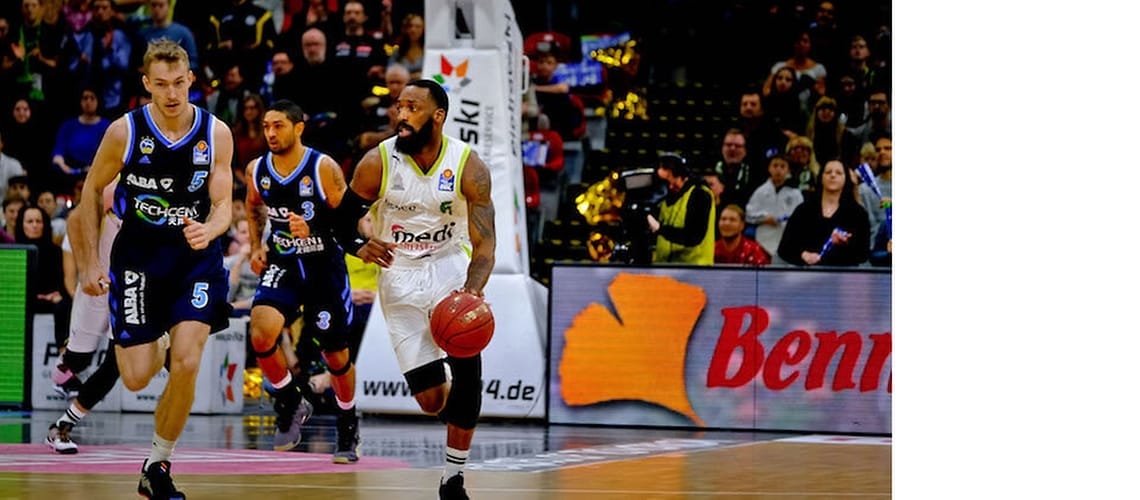 Bayreuth, 12-08-2019
It was a close affair in the end, but not enough for medi Bayreuth to pull off a shock on the 11th game day of the easyCredit German Basketball League. The team of Head Coach Raoul Korner committed too many mistakes in the duel with ALBA BERLIN on Sunday afternoon and so finally went down to the Albatrosses by 78:82 (34:45).
Although the HEROES OF TOMORROW took the second, third and fourth periods, the club from Germany's capital won the first by the clear margin of 21:9 and so was able to leave the Oberfrankenhalle with a not undeserved victory under its belt. Well aware of Berlin's recent strenuous travels, medi Bayreuth hoped it would have a good chance of tripping up the favorites, as it had done last season. And that chance was there for the taking on Sunday afternoon. However, only a "below-average performance by my team," as medi's Head Coach Raoul Korner described it at the press conference afterwards, was not enough in the end against the league's third-place team.
Lucky Jones from medi Bayreuth commented: "We should have started off with a bit more aggression. ALBA BERLIN is a EuroLeague team that has a very good squad. So have we, but we need to understand that we have to exploit every opportunity we get, no matter how small. We managed to do that on a number of occasions today, but we also failed at times. All in all, however, I think we turned in a good performance."
The first period was the crux: The HEROES OF TOMORROW lost it to the Albatrosses by 9:21 and conceded no less than nine turnovers. All in all, Bayreuth's play initially lacked the bite required for it to pull off a shock. medi Bayreuth improved in that department and grew more tenacious as the game went on, but apart from a spell around the 16th minute, when it briefly went 30:28 in front thanks to five straight points by Lucky Jones, it was always playing catch-up. Its shooting percentage from the floor was also too low for it to pose any real danger to ALBA BERLIN.
Raoul Korner, Head Coach of medi Bayreuth, commented: "First of all, congratulations to ALBA BERLIN and Coach Aito on what was ultimately a deserved victory. If you look at the statistics, you might think we'd already lost the game in the first period, because we won all the others. At the end of the day, we let a good chance slip. Going into the encounter, we knew that an average performance wouldn't be enough to defeat ALBA BERLIN, and to be honest we didn't even turn in an average performance today. There were many situations in offense that we didn't solve well, we were too passive at times, and then we dribbled too much again. We didn't capitalize on our chances and, all things considered, it was a below-average display against an above-average team – and that usually means you lose."
The next game for the HEROES OF TOMORROW follows in rapid succession, when they travel to Bakken Bears in Denmark for their first game in the second group stage of the FIBA Europe Cup. The tip-off in the Vejlby-Risskov Hall this Wednesday is at 6:30 p.m.
www.medi-bayreuth.de