Coburg
Landestheater Coburg: Farewell to the Great House and anticipation of the Globe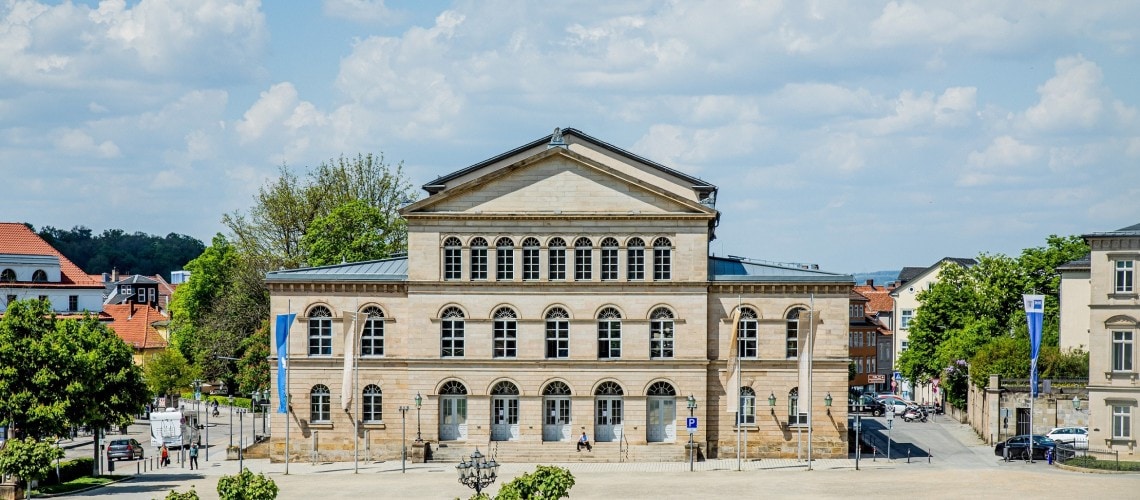 Coburg, 05-12-2023
The Landestheater Coburg will close the Große Haus for several years for general renovation and is holding a big theatre festival on Saturday, 13 May to say goodbye. At the same time, those responsible are looking forward to the new venue, the Globe.
The farewell party will take place in the Große Haus, the Reithalle and on the Schlossplatz and will offer an entertainment programme and activities for the whole family. The entire programme, with the exception of the farewell gala "Finale Glorioso" and the farewell party in the Große Haus, is open to the public with free admission. The theatre festival begins on Saturday at 4 pm with an open practice by the Ballet Coburg and a choral concert by the Landestheater. There will also be audience tours of the Große Haus, children's activities in the Reithalle and on the Schlossplatz, and interviews with prominent theatre personalities. From 10:30 pm there will be a concert in the Reithalle with the alternative rock band "Black Star" and a big party on the stage of the Große Haus with DJs.
The board of directors of the Landestheater provided a foretaste of the Globe at the presentation of the programme for the coming season. Neil Barry Moss, the new opera director, was enthusiastic about the new venue and stressed the responsibility of bringing audiences to the theatre. The upcoming season will open with Giuseppe Verdi's "Macbeth" and will offer a colourful mix of old and new. Music Director General Daniel Carter announced projects such as "COburger COmponisten" and a world premiere by Florian Graf in the Schauspiel. The Ballet will present Shakespeare's "Romeo and Juliet" and perform "Death and the Maiden" and "First Steps", among others. "The Physicists" and "The Ship from Hell" will be further highlights of the new season. The Christmas fairy tale with the "Wizard of Oz" promises magical moments again.