Crailsheim
medi Bayreuth loses 76:83 on the road at Hakro Merlins Crailsheim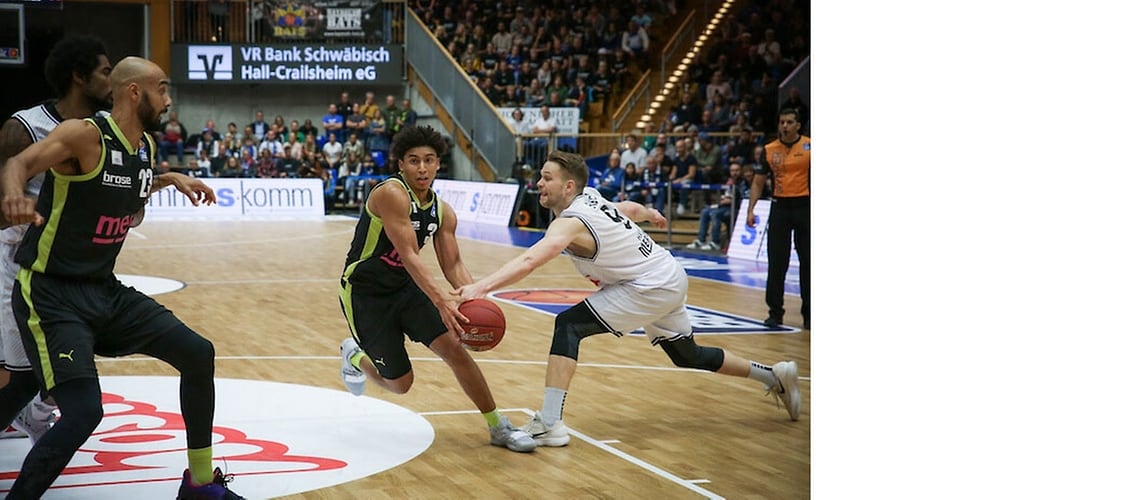 Crailsheim, 10-06-2019
medi Bayreuth simply cannot win in Crailsheim. As in the encounters in previous years, the HEROES OF TOMORROW left the Arena Hohenlohe as losers this season, too. In the encounter on the 2nd game day of the easyCredit German Basketball League, the team of Head Coach Raoul Korner lost at HAKRO Merlins Crailsheim by 76:83 (41:48) in front of 2,240 spectators on Sunday afternoon.
"It was basically just another game. We have to watch out and make sure we stay focused, because it's a long season. Many teams get off to a poor start to the season, but the good ones know how to come back and prepare for the next game. We've a long season ahead of us and must simply keep on improving. A team that has confidence that it can make progress also has confidence in itself," was how medi Bayreuth's Lucky Jones summed up the defeat.
Crailsheim got off to the better start and was soon ahead, mainly thanks to Sebastian Herrera (11 points in the first period). However, the team of Head Coach Raoul Korner showed that it had definitely improved and stayed in close contention with the Merlins. It only let the home side pull away a little due to a short phase of weakness at the end of the first half. After the break, Crailsheim produced what was probably its strongest spell and was able to surge 63:48 in front with 3:37 minutes left in the third quarter. Yet the HEROES OF TOMORROW, with a James Woodard who again had an impressive game and a much stronger Reid Travis, displayed their tenacity and struck back with their strongest spell in the encounter. They were now more uncompromising in defense and were able to reduce the deficit to 60:63 by the end of the quarter. It looked like anything was possible again in the final period. However, Crailsheim was calmer, and perhaps also partly a little luckier, but definitely more alert at the board. It was able to snap up rebounds too often (winning that department by 37:26) and so play out its lead. The Merlins also had a player in their ranks who was always there when his team needed him: Javontae Hawkins, who finished as the game's top scorer with 25 points.
Raoul Korner commented: "Congratulations to Crailsheim. There were a few moments where I had the feeling we could turn the game in our favor. That was always when we were very aggressive and were in a groove in defense. Then we repeatedly made naive mistakes and ruined those moments. We pose too little danger under the basket, depend too greatly on shots from outside, and don't have enough physical presence when rebounding."
The HEROES OF TOMORROW now face s.Oliver Würzburg on Sunday, October 13, 2019. After two games on the road in succession, the team of Head Coach Raoul Korner can be sure of the vociferous support of its fans again in the Oberfrankenhalle cauldron (tip-off: 6 p.m.).
https://www.medi-bayreuth.de/