Frankfurt
medi Bayreuth wins 88:74 on the road at FRAPORT SKYLINERS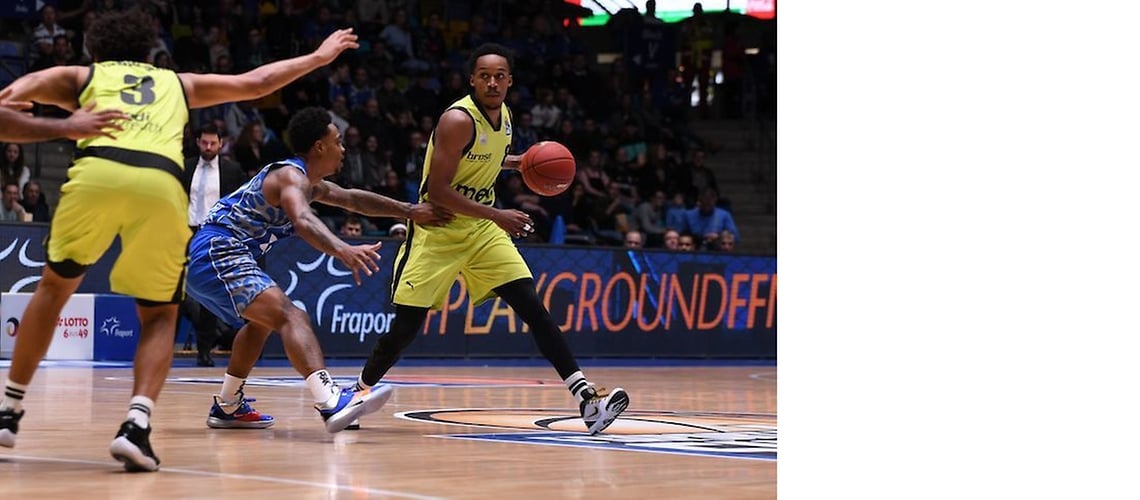 Frankfurt, 11-02-2019
Following its first victory in the FIBA Europe Cup, medi Bayreuth also captured its first win in the domestic league this season on the 6th game day of the easyCredit German Basketball League, when the team of Head Coach Raoul Korner defeated FRAPORT SKYLINERS on the road by 88:74 (51:31) on Saturday evening.
Many of the 3,700 spectators, including a number of really loud Bayreuth fans, probably rubbed their eyes in disbelief, since the way the HEROES OF TOMORROW notched up this success was pretty impressive. After needing a short time to warm up, medi Bayreuth dictated the course of play in the FRAPORT Arena and dominated the first 30 minutes. It was superior to Frankfurt in offense and defense and so ultimately ran out very commanding winners.
Apart from James Woodard (26 points), who has been in outstanding form for weeks, power forward Evan Bruinsma also chalked up excellent statistics: 14 points, eight rebounds and an efficiency of 18.
It took a moment for Bayreuth to get into its stride in the FRAPORT Arena. However, Nate Linhart and his teammates then burst into action and produced a flowing display at times. After the home side went 9:2 in front in the 3rd minute, the HEROES OF TOMORROW slipped into top gear and even took the first period by the clear margin of 25:16. With its enormous fighting spirit and, as in the win against Prishtina in the FIBA Europe Cup on Wednesday, another excellent all-round team effort, the players of Head Coach Raoul Korner were even able to raise their game at both ends of the court in the second quarter and so led by 20 points at half-time.
Nor did the HEROES OF TOMORROW slacken their grip after the break: They kept the number of mistakes they made low, remained highly variable in offense and defended strongly and so were able to stretch their lead. The encounter was as good as over after 30 minutes with the score at 77:52.
Going into the game, Head Coach Raoul Korner emphasized that one of the keys to winning would be rebounding – and his team proved hungrier in that department in Frankfurt than the home side, winning the duel below the boards by 37:34.
Raoul Korner commented: "I wish to pay my team a huge compliment. The way we are slowly fighting our way out of this tough spell would make any coach happy. We said that rebounding would be vital before the game. But I'm delighted that we then played at an almost perfect level for three periods, in offense and defense. Frankfurt then summoned up all it had at the end and took a big risk by fielding a short line-up. That caused us to become hesitant, but we found our way as a team. At the end, we made the key plays and finally clinched victory. We've now captured two wins in a row, but still have a lot of work to do. But we're moving in a sensible direction."
medi Bayreuth faces its next task on Wednesday, November 6, when the top Cypriot team APOEL Nicosia visits the Oberfrankenhalle cauldron (tip-off: 8 p.m.).
https://www.medi-bayreuth.de/