Scheßlitz
Motorsport: Patrik Dinkel celebrates double victory in Calw and in Scheßlitz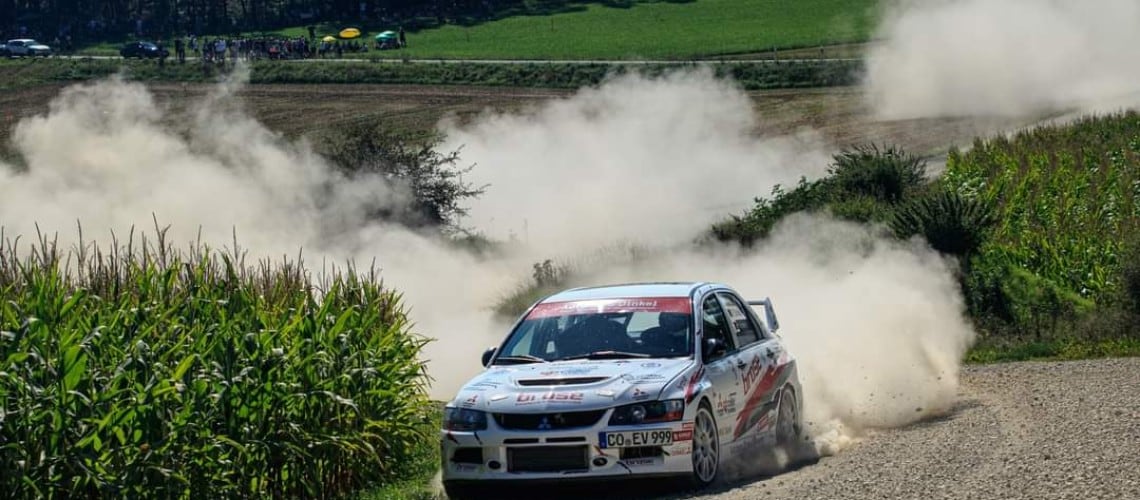 Scheßlitz, 09-14-2023
26-year-old Patrik Dinkel from Großheirath near Coburg was beaming with sunshine in midsummer conditions on the last two weekends. In the Brose Mitsubishi Lancer Evo 9 RS, the youngster took two commanding start/finish victories at the 40th anniversary of the Gerhard-Mitter Memorial Rally (02 September 2023) in the Black Forest and at the 5th Rally Sprint in the Bamberg region (10 September 2023).
From the rally centre at the community hall in Deckenpfronn, three different special stages had to be completed on the edge of the northern Black Forest. Patrik Dinkel and Monique Voigt were particularly taken with the "Station Teinach" stage, which had to be completed in three rounds: "This stage led uphill through the forest for several kilometres on extremely undulating asphalt. We had a lot of fun on this demanding course, which could have been a bit longer," the duo said enthusiastically. The other stages also had a similarly fast character - Patrik and Monique drove faultlessly and concentrated from best time to best time and finally won with a lead of 47.9 seconds over the local heroes Florian Schwenker/Paul Gehbauer (Ford Fiesta RC4) and Tom Kässer/Tobias Glatzel in the Peugeot 208, who both competed in the modern Rally4.
There was great enthusiasm among the participants after inspecting the new route at the 5th Rally Sprint with start and finish in Scheßlitz. "At the beginning it went over track plates, before a long gravel section first led through the forest and further on wide gravel roads past the wind park. The last third was dominated by asphalt roads - 7.5 kilometres with everything the rally heart desires at absolute DRM level," the Dinkel youngster, who started with co-driver Yasmin Kramer, was full of praise. As last year's winners, the duo opened the event and set the first best mark with a lead of 18 seconds. It was a similar picture in the second round, which ended with an eventual 28-second lead over a strongly performing Rene Schubert/Lara Quast in another Mitsubishi. The two Subaru of Mark Schindler/Milena Raithel and Dominik Honke/Marcel Dinkel followed in the other places.
Already in a fortnight, the 52nd ADAC Rally Stemweder Berg, with start and finish in Lübbecke, is scheduled as the final of the German Rally Championship.