Ebern
Motorsport: Patrik Dinkel dominates the ADAC Haßberg Rally Ebern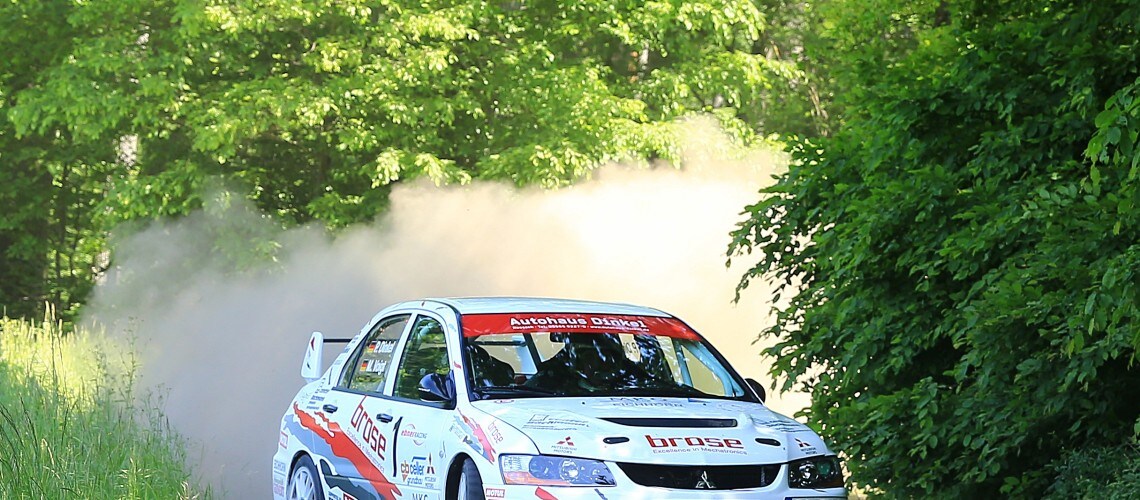 Ebern, 05-27-2023
With an overall victory at the 25th anniversary of the ADAC Rally Ebern, 26-year-old Patrik Dinkel from Großheirath underlined his top form. The Mitsubishi driver set all the best times with co-driver Monique Voigt and built up a lead of almost 40 seconds over the competition.
AC Ebern has been known for its good organisation for years - almost 100 vehicles travelled to the tranquil town of Ebern for the anniversary event. In early summer weather, two double start-finish stages were on the agenda. Patrik Dinkel and Monique Voigt started in the Brose Mitsubishi Evo 9 RS with start number one and left no doubt about their will to win from the very first meter. After the first run, they had a lead of almost 30 seconds over their fastest pursuers and brand colleagues Rudolf Reindl/Michael Ehrle.
"These stages are really gigantic," raved the Dinkel youngster during the half-time break. "Everything is really involved here and I hardly know a Rallye35 with such demanding tracks. Fast asphalt passages alternate with narrow gravel sections through the forest, plus a few village crossings with well-filled spectator seats." For the second run, the intention was to manage the lead and drive the victory home safely.
"With two more best times, we continued to set the pace at the front. While Reindl/Ehrle were unfortunately eliminated, Kai Otterbach and Albert Hertfelder in the Ford Fiesta S2000 improved and almost matched our times. At the last pass in Jesserndorf, we braked on the very last groove and offered the fans a spectacular performance," beamed co-driver Monique during the festive award ceremony in the packed marquee.
The 3rd round of the German Rally Championship will take place as part of the ADAC Rally Mittelrhein (09/10 June) with start and finish in Föhren. The route runs on a large part of the former stages of the World Rally Championship. Patrik Dinkel has good memories of last year, when he clinched class victory in the Brose Mitsubishi.
"It's great to compete in front of this backdrop. Just a few years ago I was watching the world's best drivers here and now I'm taking part myself - a dream came true for me. I like the characteristics with the fast and narrow passages over crests paired with some handbrake turns. The starting field is strong and international - and many spectators are expected on site," says Patrik, looking ahead to one of his absolute season highlights with sparkling eyes.