Sulzdorf
Motorsport: Patrik Dinkel wins Grabfeldrallye after thrilling duel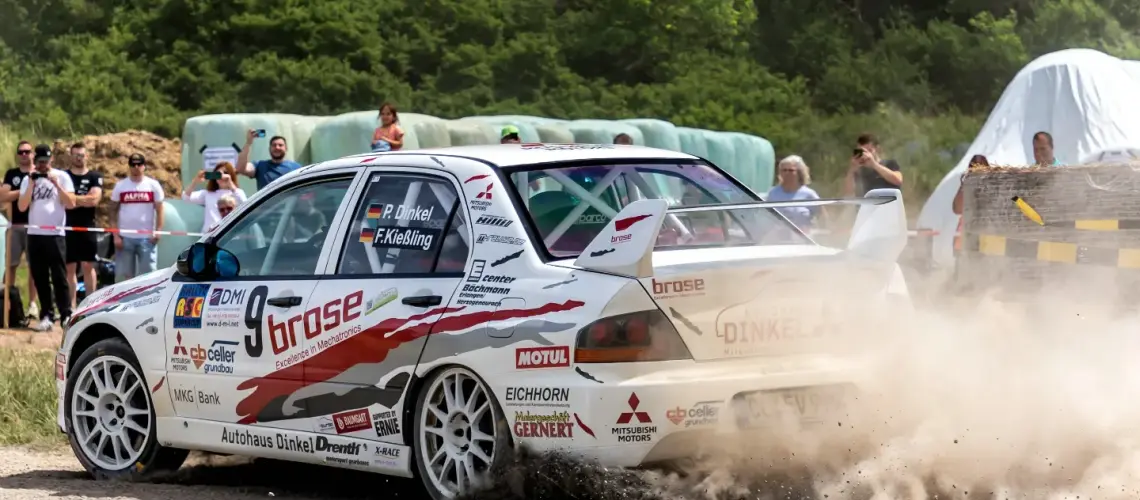 Sulzdorf, 07-01-2023
After their ADAC Masters victory in 2019, Patrik Dinkel and Felix Kießling celebrated a brilliant comeback at the 28th Grabfeldrallye. In the Brose Mitsubishi Lancer Evo 9 RS, the duo prevailed against the favoured Skoda Fabia R5 of Oliver Bliss/Katrin Becker. Multiple overall winner Michael Rausch (Opel Ascona B) completed the podium.
60 kilometres were spread over seven special stages - the gravel portion was almost 20 percent - the ideal terrain for the young Patrik Dinkel with co-driver Felix Kießling. Thousands of spectators lined the special stages - the traditional "Sulzdorfring", only a few steps away from the marquee, formed the sporting conclusion, which flowed into the spectacular award ceremony followed by a party until the early hours of the morning.
"In order to have any chance at all against an R5, we had to go on the attack from the first metre to the finish - of course we were also lucky a few times," beamed Patrik Dinkel during the interview in the packed marquee in the evening. "Oliver Bliss is one of the best drivers in the DRM Trophy, with Katrin Becker, the reigning German champion, sitting next to him for the first time. Three times they were ahead - four times we were in front - which ultimately meant a lead of five seconds," summed up Kießling, who returned to the Dinkel cockpit after successfully completing his agricultural apprenticeship. "In addition, the victory was hanging by a thread due to technical problems - after the fourth stage we had strong noises with the gearbox. In the end it was harder to shift, but it held out," added Dinkel, while he was frenetically celebrated in the marquee.
The next scheduled event is the 16th ADAC Rally Main-Kinzig with start and finish in Wächtersbach. Here, the twins Patrik and Marcel Dinkel will try to repeat their last year's victory. "Thank you to all friends, sponsors and supporters - you all sacrifice a lot of time and money for us - rallying is a team sport, without each and every one of you, none of this would be possible," Dinkel concludes by thanking those around him.