Göttingen
No away win in Göttingen either - medi loses to the Violets 89:100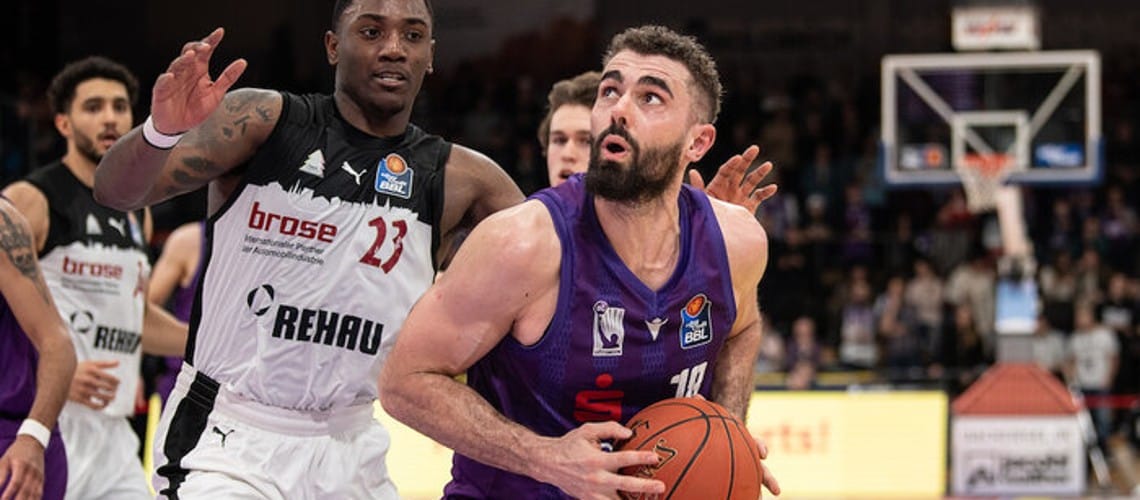 Göttingen, 12-22-2022
Also after the last away game this year medi bayreuth remains winless away this season. The game, which was brought forward due to the upcoming three-month closure of the Sparkassen Arena, Bayreuth's Bundesliga basketball players lost 89:100 at BG Göttingen.
With some delay due to technical problems at the scoreboard, the game started at BG Göttingen, with the first points reserved for the host. However, our team immediately found the right answer and so a close game developed in which neither of the two teams could break away or in which neither team initially wanted to find its rhythm. After just under seven minutes, there were a total of just twelve points on the now functioning scoreboard, namely six for the Lower Saxons and just as many for medi bayreuth. Towards the end of the first quarter, however, the hosts got into the game a bit better and since they were better at grabbing balls under the baskets with 12:7 rebounds, they went into the second ten minutes with an 18:14 advantage.
In these minutes, the game did not necessarily become of higher quality, but at least the throws on both sides fell better now and the game became faster overall. While the hosts hit their shots with a higher percentage, this left a lot to be desired for medi bayreuth, because only ten of 34 throws found their target, so that the quota of the Bayreuth team was just 29.4%. Consequently, Head Coach Roel Moors' team went into halftime with a 44:35 lead.
Even after halftime, medi could not really improve, while Göttingen had now fully arrived in the game and soon made the lead double-digit. But that wasn't enough, the Lower Saxons were now hitting their shots even better, something our team just didn't want to manage tonight. Since Roel Moors' team managed 33 points in the third quarter, whereas Bayreuth could only counter with 20, they were down 55-77 after 30 minutes.
The last game unit had only statistical character. The Bayreuth team scored a little better now, but BG Göttingen was still able to do as it pleased. After Mark Smith scored 100 points just a few seconds before the end of the game, the 86:100 away defeat was sealed.
Lars Masell (Head Coach medi bayreuth):
"Göttingen is playing excellent basketball and a very good season. We knew it would be very difficult for us here. In the third quarter, Göttingen clearly took it out of us. It's hard for us right now when we're trailing by a lot. But we showed that we can actually hit the shots we had in the first half. Then when the pressure was off in the last quarter, we did some result cosmetics, but Göttingen was clearly superior today. We have to keep working because we need more from every player and look ahead."