Bombarral
Noah Monteiro victorious at Portuguese karting championship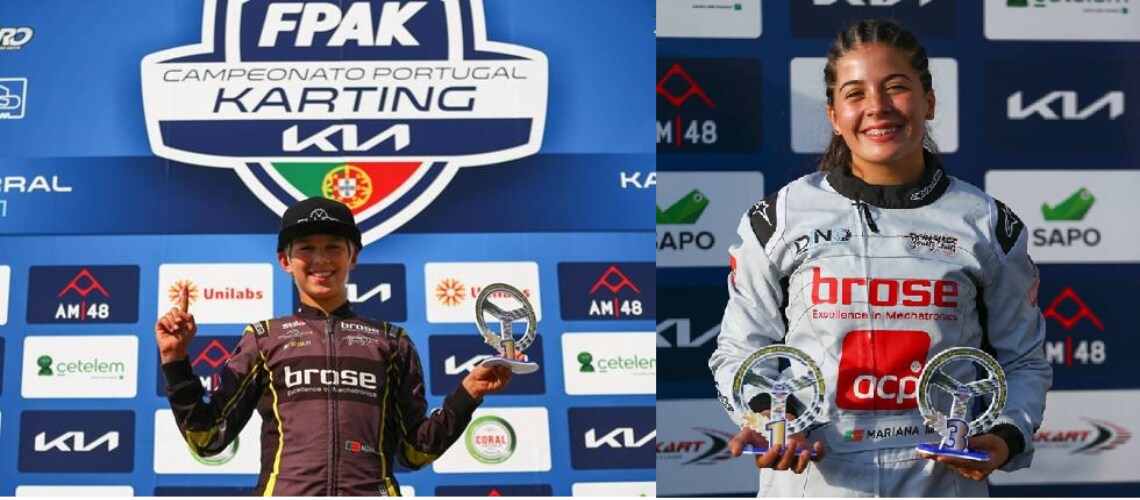 Bombarral, 09-19-2021
It was a great weekend for the Skywalker Young Gun drivers, Noah Monteiro and Mariana Machado, who took part in the fourth round of the Portuguese karting championship on September 19 at Bombarral. In the Junior category, Noah won the second final after standing on the third step of the podium in the first, putting him in first place in the championship with just one race weekend to go.
Mariana Machado, despite competing with thirty drivers in the X30 class, also took third place on the podium in the first final and placed 10th in the second. These brilliant results made both drivers very proud, along with the founder of Skywalker Young Guns, Tiago Monteiro.
Noah Monteiro stood out right from the start of the weekend, even though he didn't feel his kart was performing at its best. "At first, it wasn't going very well and we had to improve the settings on the kart and in my driving. We did our best, but we couldn't get the victory immediately. I finished second in the first qualifying heat, then third in the first race. On Sunday we managed to progress, winning the qualifying round as well as the final. But it was not an easy race, and I didn't manage to stretch out my lead. My rivals were always very close behind me and I had to keep my focus until the very end. The weekend didn't go well initially, but in the end, we managed to turn things around and that was very important for the championship. There is only one race weekend left and it is motivating to arrive at the last round in first place in the championship", he explained.
Mariana Machado got off to a good start, taking second place in the first qualifying race despite some very tough competition. "I got off to a very good start. My kart was fast and I felt very comfortable. Second place in the qualifying race is a testament to our good form. I gave everything I had in the race and got third place. It was very nice to be back on the podium again! Unfortunately, Sunday did not go so well and I ended up 10th in the second qualifying heat and in the second race. Overall, it was a great weekend. It's one of the most competitive grids ever and it was good to show that I can race at the front and fight for podiums and wins", she said.
The fifth and final round of the championship will take place on October 2-3 in Braga.