St. Wendel
Rally Masters: Dinkel/Lutz to win the second race as well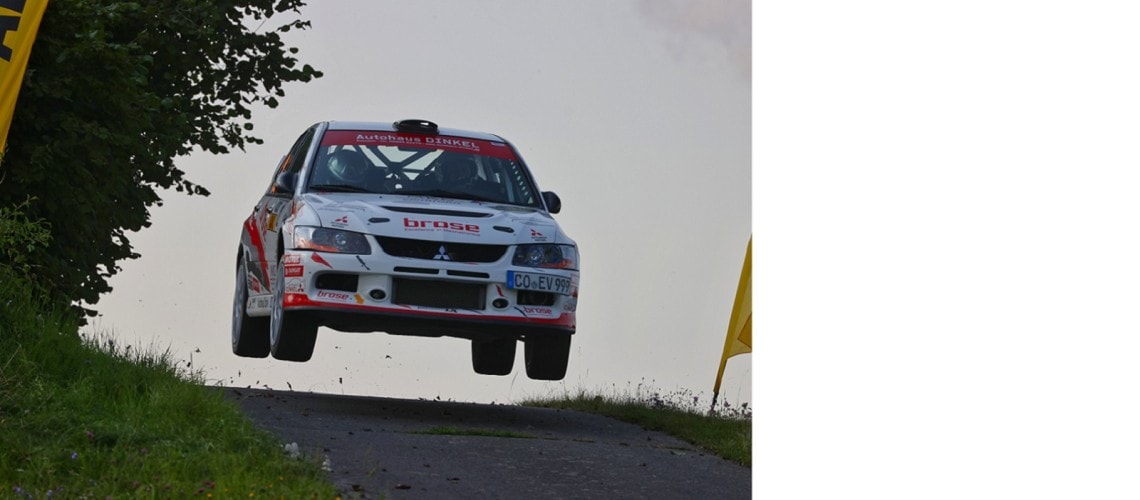 St. Wendel, 08-21-2021
Spectacular motorsport and an impressive atmosphere in the spectator stands characterized the second round of the ADAC Rally Masters as part of the Saarland-Pfalz Rally with start and finish in St. Wendel. Patrik Dinkel and Tamara Lutz proved to be in top form in the Brose Mitsubishi Lancer Evo 9 RS and took an unchallenged victory.
In summery conditions, twelve demanding special stages, most of which have already been driven in the World Rally Championship, with a total length of around 112 kilometers awaited the participants. After just a few meters, a minor electronics problem caused some excitement among the Mitsubishi crew: "We had a cable break - the result was no ALS and the differential control didn't work either. Fortunately, we only lost 12.4 seconds to Ruben and Petra Zeltner in the Porsche 911, and our service crew was able to repair the damage," Patrik said confidently as they took to the stages for the second turn. With two good times at the end of the first day, the youngsters reduced the gap to the top to 8.4 seconds and went into the night in second place.
Saturday morning started with a bang. In the fifth special stage (Bosenberg 1), two-time German Rally Champion Ruben Zeltner (2014/2015) dropped out after a driving error that was rare for him. As a result, Patrik and Tamara were leading by more than a minute at the first service break on Saturday. Martin Christ / Heinke Möhrpahl, the runners-up from the opening race and also among the favorites in the class, didn't quite get going this weekend. The team decided not to push the pace and to finish the rally in a controlled manner. At the finish on the Schlossplatz in St. Wendel, there was another goosebump feeling as the participants were celebrated by many spectators and the accompanying fans at the award ceremony.
"All in all, it was a perfect weekend for us. The good atmosphere in the spectator stands was transmitted to us in the car - we had a lot of fun and were able to maintain our position as the best non-R5 vehicle in the top 10 of the overall classification - we can continue like this," Tamara summed up visibly impressed at the finish interview.
After the rally is before the rally. Preparations for the next round of the ADAC Rally Masters already continued on Sunday. "We took the car apart and carried out the usual overhaul work. When removing the front axle, we found that we need to replace the two wishbones. We will see the rest during the further vehicle check," Patrik gives a preview of the work in the coming days. In just over two weeks, the journey will take them 800 kilometers north - where the third round of the ADAC Rally Masters will start with the Cimbern Rally in Süderbrarup (September 11, 2021).