Ulm
s.Oliver Würzburg wins the battle of the middleweights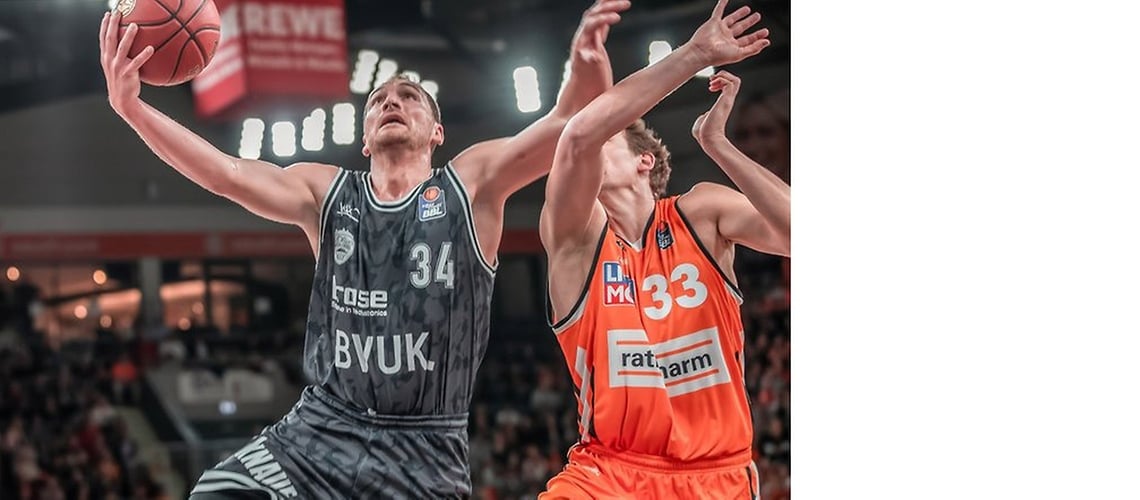 Ulm, 11-09-2019
s.Oliver Würzburg had a hard bit of work to do before capturing its fourth victory of the season on the 7th game day of the easyCredit German Basketball League: "The game was a bit like a middleweight boxing contest," said Head Coach Denis Wucherer after his team's 82:73 win in front of 6,000 spectators in Ulm's sold-out ratiopharm arena. After an evenly balanced first half, the visitors from Lower Franconia finally defeated ratiopharm ulm thanks to their better play in offense and higher shooting percentages. Five Würzburg players chalked up a double-digit haul: Luke Fischer (14 points), Jordan Hulls (13), Skyler Bowlin (13), Cameron Wells (13) and Florian Koch (11).
Wucherer was only able to field five non-German players in Ulm, since new signing Junior Etou was not eligible and Rytis Pipiras was needed by the ProB team, which was weakened by illness in its tall positions and had to play in Munich at the same time. Julian Albus from the farm team was called up into the first-division squad for the first time this season to replace the Lithuanian.
The crowd saw an evenly poised encounter in the first half, with both teams having their problems in various departments. Whereas s.Oliver Würzburg played with a lot of confidence in attack and drained its first five shots from the floor (including three threes) and two free throws, the home side had a weak shooting percentage from the outside.
Yet the club from Lower Franconia was not really able to capitalize on that, since Ulm snapped up nine offensive rebounds in the first 11 minutes alone and scored almost a third of its points in the first half at the second bite of the cherry. That was compounded by the fact that Würzburg conceded ten turnovers before the break: "That hurt us hard. But then we did things a lot better in the second half," emphasized Wucherer afterwards.
His players notched up their highest lead in the first half after Jordan Hulls buried a bucket from outside to make it 17:24 in the 11th minute. Less than a minute later, Ulm had tied the scores after a run of seven points without reply (24:24 in the 14th minute), forcing Würzburg's Head Coach to call his first timeout. Both sides traded blows in the ensuing end-to-end affair up to the break and went in at half-time with the score standing at 38:39.
The home side then had its best spell for almost the first five minutes of the third period and was able to open up a bit of a gap for a brief time (51:46 in the 25th minute). However, s.Oliver Würzburg's players refused to be perturbed by Ulm's brief peak in form, kept on playing with focus and took their shots with a great deal of confidence, as a result of which they quickly regained the lead and momentum thanks to a 16:6 spurt, in which Florian Koch, Jordan Hulls and Skyler Bowlin drained four threes, to make it 57:62 in the 30th minute.
The encounter remained tight and exciting for a long time in the fourth quarter, too. The home side fought and kept within striking distance for a long time, but were no longer able to snatch the lead back. The game became really tight in the 36th minute when Ulm's top scorer Andreas Obst cut the deficit to 67:69 with a shot from downtown, as a result of which Denis Wucherer called his next timeout. After that, Ulm went three-and-a-half minutes without scoring, while at the other end Luke Fischer added a tip-in in the 39th minute and Cameron Wells followed that up with two free throws to make it 67:74 and seal victory.
In the last 61 seconds, Ulm sent Wells, Jordan Hulls and Skyler Bowlin to the foul line five times – and all ten shots dropped. Denis Wucherer's verdict: "Both teams showed that they can play at a far higher level in offense than they did today. But we did enough right to run out winners against an opponent that's still finding itself and was probably also a bit tired."
s.Oliver Würzburg now face a home game against FRAPORT SKYLINERS on Sunday, November 17 (tip-off: 3 p.m.).
https://www.soliver-wuerzburg.de/