Coburg
Tiago Monteiro lines up with Honda and All-Inkl.de Munnich Motorsport in the FIA WTCR Championship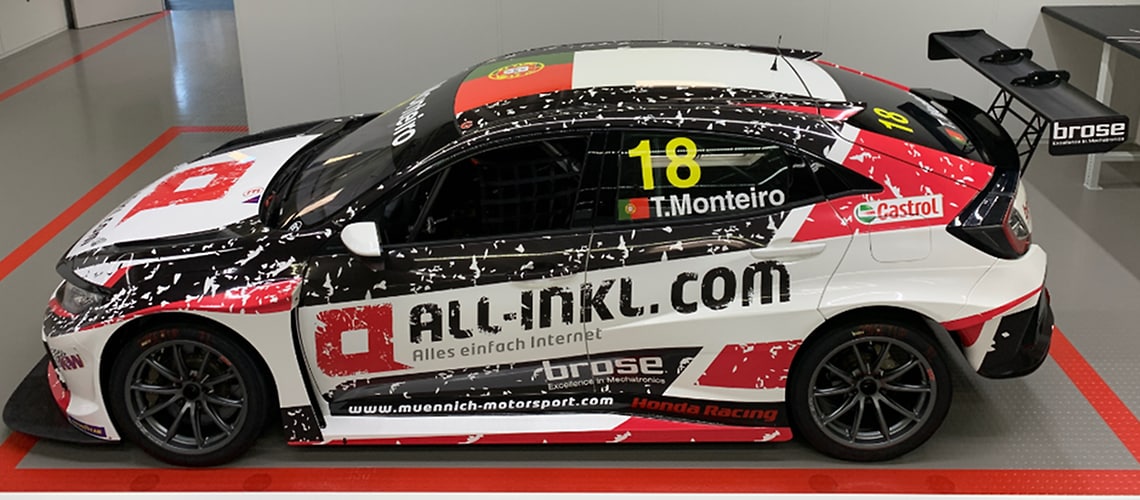 Coburg, 06-09-2020
The 2020 season in the FIA World Touring Car Cup (WTCR) will begin on the Salzburgring in Austria in September. Tiago Monteiro will line up alongside teammate Attila Tassi in a Honda Civic R TCR from All-Ink Munnich Motorsport.
The Japanese brand's team also includes Esteban Guerrieri and Nestor Girolami, who are likewise under contract with All-Ink.com Munnich Motorsport.
Now that the car's new design and the race dates for 2020 have been published, Tiago Monteiro is also looking forward to the start of the season with excitement.
"Everything is slowly taking shape and the competition will be resumed at long last. The race calendar comprises six busy weekends, each with three races on most Sundays," said Tiago. "Our goal is to fight for the world championship title. If we hadn't been affected by the COVID-19 pandemic, we would now be preparing for the races in Vila Real, an event that is very dear to my heart. Unfortunately, we won't line up at Vila Real this season, but I hope we'll achieve good results in the other competitions so that all Portuguese fans will nevertheless have cause to celebrate. I'm very euphoric and can hardly wait for things to get underway in September. And, of course, I'm looking forward to returning to this fantastic city in 2021."