Jeddah
WTCR: Tiago ends season with top ten finish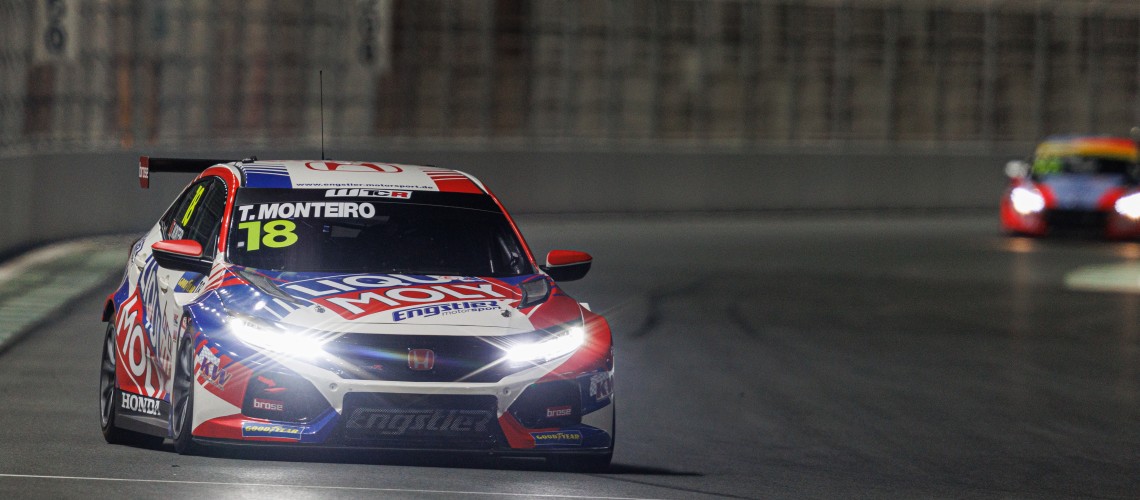 Jeddah, 11-27-2022
A conciliatory end to a difficult WTCR season for Tiago Monteiro. The Portuguese, who is supported by Brose, finished in the points twice on the final race weekend of the World Touring Car Cup. In the second race, he even managed to finish in the top ten. At the Jeddah Corniche Circuit in Saudi Arabia, he finished 13th in the first race before rewarding himself with ninth place at the end of the season.
"Positively, it's good to finish in the top ten in a crazy race at the end," said Tiago, "but the performance was similar to yesterday. That's why it's still been a frustrating end to a character-building and difficult season for me." In the overall standings, the LIQUI MOLY Team Engstler driver is in 15th place after 16 races. His Hungarian teammate Attila Tassi finished two places ahead of him in 13th place, while the overall winner was Mikel Azcona (Hyundai).
Already in qualifying, Tiago's Honda Civic Type TCR experienced major difficulties. "We had hoped for a better performance. But I had big vibrations on the car. I already had this problem in Bahrain. But this time it was even worse. We changed many things, but the individual sessions were still difficult," said the former Formula 1 driver.
Tiago gets the maximum out of the car and finishes ninth
These difficulties were to continue in the first race. Tiago fought with all his might to get the maximum out of his car and still ended up in 13th place at the finish. Things went a little better for the two-time WTCR race winner in the second race. Tiago ended up ninth, but also benefited from the difficulties of his rivals. "We tried to turn things around and find solutions," said the 46-year-old, "but overall the conditions were not ideal."
The race weekend in Jeddah also marks the end of the World Touring Car Cup after five years. The competition, which followed the World Touring Car Championship (WTCC), will not continue in its familiar form next season. The format in which the TCR cars will compete from 2023 onwards has not yet been conclusively clarified. The same applies to Tiago's sporting future.
"Time will tell what will happen in 2023, but I have learned a lot this year. We should now analyze what we could have done better, reposition ourselves and continue to improve," said Tiago. For now, though, we wish him a good rest after this exhausting season.