Global responsibility – with a local focus
As a family-owned company, it has always been important to Brose to help people who face difficult situations. We make a conscious effort to concentrate our social commitment on the regions surrounding our locations. This enables us to provide support where our proximity gives us keen insight into the unique local needs and challenges.
Lasting support for migrants in Coburg
Brose has continously been helping to fund Coburg Council's Coordination Office for People from a Migrant Background since 2016. The office makes it easier for migrants and refugees to start their new life in Germany and helps them find their feet in everyday life. The advice bureau handled more then 1.500 requests of asylum seekers and migrants in 2019 alone. It is part of the subject area "Asylum and Refugee Affairs" and so persons who get in touch with the department for the first time are immediately put in contact with the Coordination Office. The large demand for assistance confirms that Coburg Council needs to continue and establish this service – and Brose's engagement makes a major contribution to helping it do so.
More than a home for Mexico's children
The home "Alegría de los Niños" was founded in 2012 near to our Mexican location El Marqués. Children there are given psychological care and a general school education. Brose has supported the initiative from the outset. Apart from the regular yearly financial support, our plant organizes an annual Christmas party where Brose employees visit the orphanage and give the children presents.
School education in Curitiba
Our Brazilian location in Curitiba has partnered with the Sao José dos Pinhais local municipal authorities to support the Cyro Pelizzari Educational Center since 2005. Every year the project enables hundreds of children and young adults from socially disadvantaged families to receive education and training. Brose not only offers financial support, but also donates books, arranges visits to theaters and museums and organizes an annual Christmas party. In the future we also plan to offer additional support for "Formare", a regional vocational training project.
A heart for life
The "Fundación Kristen" is committed to helping early diagnosis and treatment of heart defects in unborn babies and small children. Our Mexican site Queretaro has helped fund this foundation, which was founded in 2009, since 2015. As a result, heart defects have been able to be detected on more than 1,300 occasions. The donations from Brose are used to finance several yearly medical campaigns, from which almost 200 children benefit. In addition, their families are enabled to find the suitable method of treatment thanks to medical and genetic examinations of babies in their mother's womb.
Home and education program for abused children
The "Minesterios Pan de Vida" children's home at the Brose Querétaro location in Mexico has helped give homeless and abused children and young adults a safe place to live since it was founded in 1990. The home has already helped 1500 of its charges receive education and training. In 2019 alone, the home had 60 permanent residents. Our company has supported this institution for 24 years now. Many Brose employees also donate their free time to the cause. After all, a solid education including secondary school gives these young people a fighting chance at a better life.
Aid for schools in South Africa
Brose has been actively engaged in aiding South African schools since 2010. Every year we donate materials to support different schools that provide education to socially disadvantaged children. Examples of contributions made by Brose include paying for renovations, donating furnishings, books, musical instruments and other educational materials. In 2019 we sponsored two schools with over 900 students: the IB Damons Combined School located near our partner company in Brits and the New Generation Primary School at the Brose East London location. We will continue this support at other nearby schools in 2020.
Taicang Inclusion Factory
For a special commitment to the inclusion of people with disabilities Brose China was awarded the "Corporate Social Responsibility Award" in September of 2019. The "Inclusion Factory" project, unique in China, is a workshop for people with mental or physical disabilities and is supported by around 80 cooperation partners from Europe. With the help of specialized equipment and machinery, the Talents with Disabilities can produce competitive products, allowing them to maintain a regular job in the workshop. The goal: the diverse and meaningful employment of people with disabilities in order to integrate them as fully-fledged and respected members of Chinese society and to enable them to participate actively in public life. Brose has been supporting the pilot project in Taicang since 2018.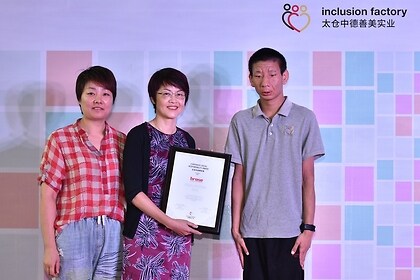 Earthquake Relief Mexico
On September 19, 2017, the ground shook in Mexico: In the state of Puebla, about 120 kilometers southeast of Mexico City, a quake of magnitude 7.1 had occurred. Countless families lost their belongings; among the victims was Amador Atenco Huilot. His house had been destroyed by the quake, a reconstruction was not possible for financial reasons. With the the help of donations from our employees in Mexico and the North American locations Jefferson and New Boston, the 80-year-old man now has a new home. The funds went to the "Habitat for Humanity" association, which works to help people in need in Mexico and offers reconstruction assistance.
Running for Eliška
As a premature baby, the nine-year-old Eliška was born with an early childhood brain damage. In her early years she had to undergo numerous surgeries. In order to provide her with a special physiotherapy for further recovery, the "Brose Runners", a group of 80 running thrilled employees from Ostrava, collected donations. Within nine months in 2019, our colleagues covered about 2,000 kilometers; Brose donated for every run kilometer. With team spirit, respect and the thanks to this cohesion of our employees enough donations came together, which finally made the helpful therapy possible.
Supporting "Girls into Women"
From 2021 on, our North American location in Detroit will be supporting the Rhonda Walker Foundation (RWF). The RWF has been committed to empowering teenage girls from socially deprived backgrounds for 18 years as a part of the "Girls into Women" program. With great success, the project focuses on education, tutoring, college preparation, and career development and strives to educate "confident and successful leaders." In addition to financial assistance, we support this mission through an employee volunteer program. This way, we provide valuable educational resources and encourage Detroit's youth.