Würzburg
Brose employee celebrates 50-year company anniversary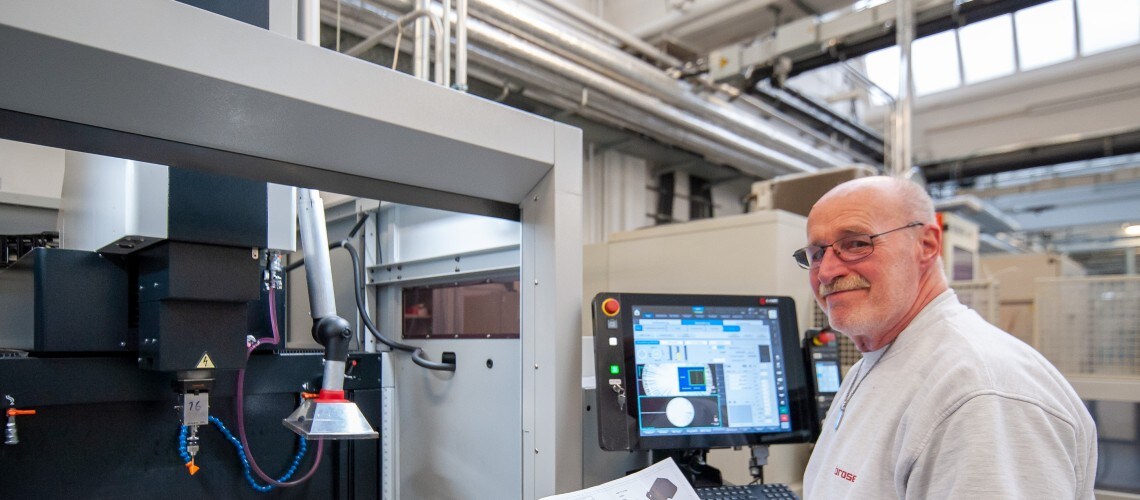 Würzburg, 12-08-2022
For half a century, toolmaker Friedrich-Wilhelm Schraud worked in production equipment technology at Brose's Würzburg location. At the beginning of December, the 65-year-old was given a ceremonial retirement. In recognition, he received the Max Brose Gold Medal from Raymond Mutz, Executive Vice President Drives at Brose. The company honors long-serving employees with the coin, which features a portrait of the company founder.
Friedrich-Wilhelm Schraud started his apprenticeship as a toolmaker in 1972 at the Würzburg plant, which was then still part of Siemens. He completed the apprenticeship in 1976 as the best in his class. Schraud then spent the first few years working in toolmaking as a finisher before joining the Navy as part of his military service. In 1980, he returned to Würzburg and to the operating equipment technology department. There, the 65-year-old worked as a cylindrical grinder and in the field of die-sinking and wire electrical discharge machining (EDM) until the end - since 2008 for the family-owned company Brose.
EDM can be used to produce one-off parts, such as those required for the construction of a production plant or prototypes. But Schraud has also been in demand time and again over the past 50 years when machines break down at the plant, producing the appropriate spare part at short notice and rectifying the fault as quickly as possible.
At the official farewell ceremony, Raymond Mutz paid tribute to the achievements of the long-serving employee: Friedrich-Wilhelm Schraud has played a key role in developing the technology of EDM at the Würzburg site. He has extensive specialist knowledge and is a true professional in this field. On behalf of the management and shareholders, I would like to thank him for his tireless commitment to our family business.