Bonn
Bayreuth put up a fight in Bonn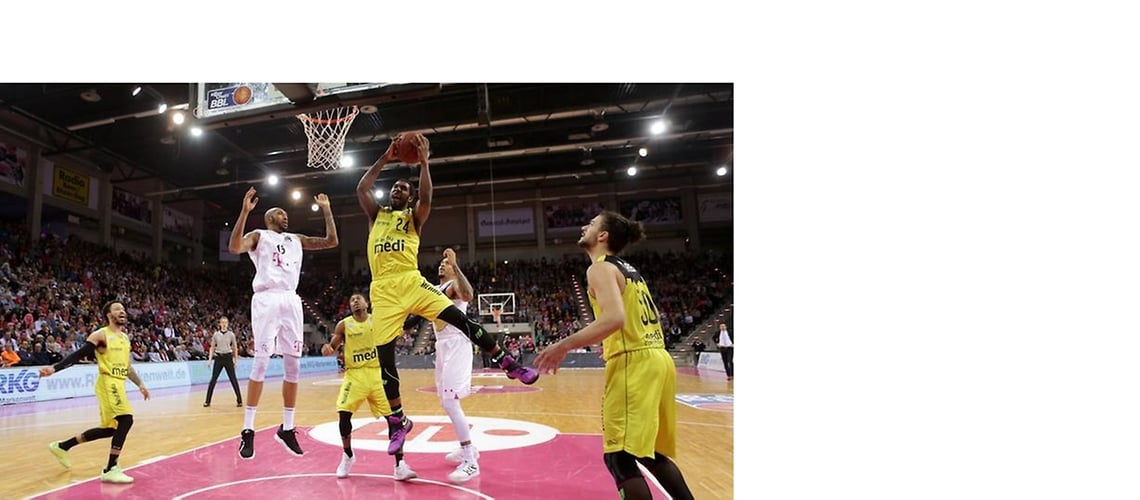 Bonn, 02-25-2017
At this year's carnival game between Telekom Baskets Bonn and medi bayreuth, the 6,000 spectators – almost all of them in a costume – certainly got their money's worth in the sold-out Telekom Dome on Saturday evening. Both teams traded blows in an extremely intense encounter on the 23rd matchday of the German Basketball League, but it was the team from the Rhineland that won luckily, but not undeservedly, by 101:94 (46:54) and so was able to preserve the aura of this truly special game.
Fired on by the carnival revelers and the really great atmosphere in the arena, both teams quickly found their rhythm in offense and a game with the character of a playoff ensued. The Heroes Of Tomorrow, who were without the injured Robin Amaize (foot injury) and David Gonzalvez, who had just become a father for the first time, were focused and full of confidence in the first half and, to the surprise of some, built a lead of 54:46 by the break.
It was not until the third period, which Bayreuth lost by 17:30, that the home side grew in strength. Whereas it was almost only center Julian Gamble who caused huge problems for Bayreuth up to the break, other Bonn players gradually turned on the heat in the second half: First of all, Ryan Thompson recaptured the lead for Bonn (65:64 in the 27th minute), then it seemed that Mayo had put the home side on the road to victory by making it 85:73 in the 33rd minute. However, the Heroes Of Tomorrow were far from vanquished.
The team of Head Coach Raoul Korner showed its heart and summoned up all its strength again. The visitors were once more able to equalize with four-and-a-half minutes to go. 161 were left on the clock when Trey Lewis even put his side in front – the game was up for grabs again. Like in the game on the road in Ludwigsburg, the tension could be felt right up to the back seats in the arena, but this time it was the home side that had that little bit of luck on its side and so the better end. Of all players, it was Kenneth Horton, who had played for the Heroes Of Tomorrow last season, who drained a crazy shot from the center line to seal victory for Bonn and also give it a better aggregate in the direct encounters between the two clubs.