Coburg
BBC COBURG in the lead from start to finish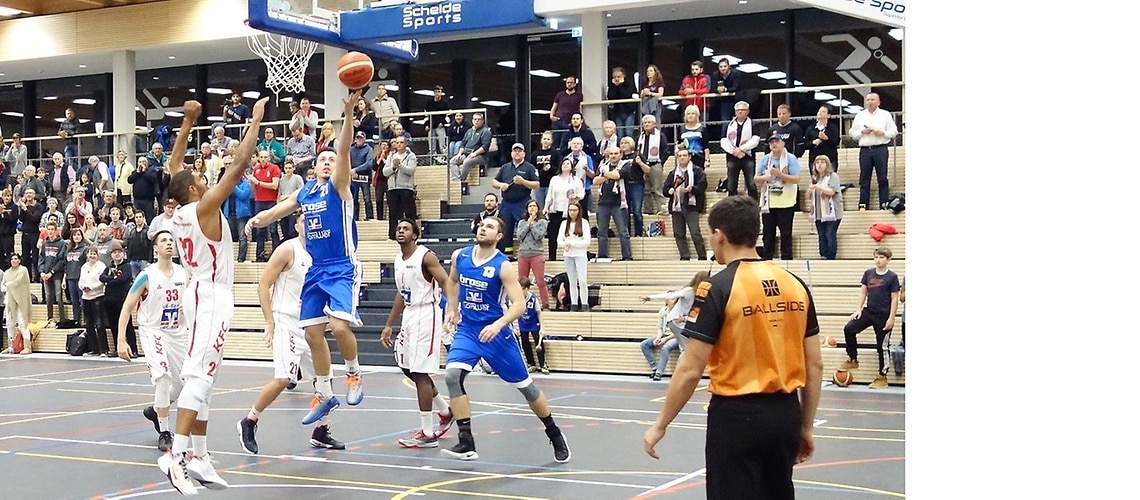 Coburg, 03-12-2017
Unfazed by recent adversity, 1st Regionalliga Southeast leaders BBC COBURG stay red-hot and dominate BG Leitershofen/Stadtbergen in 93-76 home blowout. The Upper Franconians need one more win to clinch the league championship and move up to league Pro B.
In front of another great HUK-COBURG arena crowd of close to 1,200, head coach Simon Bertram's team got off to a solid start and never really let 11th-ranked Leitershofen have a sniff of victory afterwards. Fabian Franke, in particular, proved to be a handful for the visiting Kangaroos and accumulated 15 first-half points despite early foul trouble. He controlled the paint all afternoon and finished with a game-high 26 points and ten rebounds.
When Franke had to sit with his second personal, his teammates picked up the slack. Against slower and physically inferior opposition, Eividas Molosciakas (16 pts) and swingman Steffen Walde (15 pts) had a field day driving to the rack or dishing off to cutting bigs. Overall, with their slashing style, the hosts were awarded 36 total free throw attempts while BG had a mere eleven. Kevin Eichelsdörfer was sizzling from the perimeter and finished with a perfect 3-of-3 from beyond the arc, swishing a deep NBA range trifecta from the top of the key in the process.
Early in the third, the visitors mounted a timid comeback fueled by the mid-range shooting of their American forward Joshua Hart (17 points). However, when his Coburg counterpart Jordan Burris, who had a rough day shooting but was extremely active on the defensive end, stole the ball and threw down a two-handed jam, it put the final nail in the coffin of the Kangaroos' short-lived rally.
"Our deep rotation was the key once again", head coach Bertram pointed out. Backup guard Eichelsdörfer added: "Whenever they threatened to come back, we were able to up the tempo and initiate a run of our own."
After a bye next weekend, on Saturday, March 25, at 7 p.m., BBC COBURG hosts the farm team of BBL outfit Science City Jena. Depending on the outcome of the ongoing investigation into an external attack on BBC's player database and a subsequent violation of league rules, this could finally be the night for championship celebrations.