Dresden
BBC Coburg loses at Dresden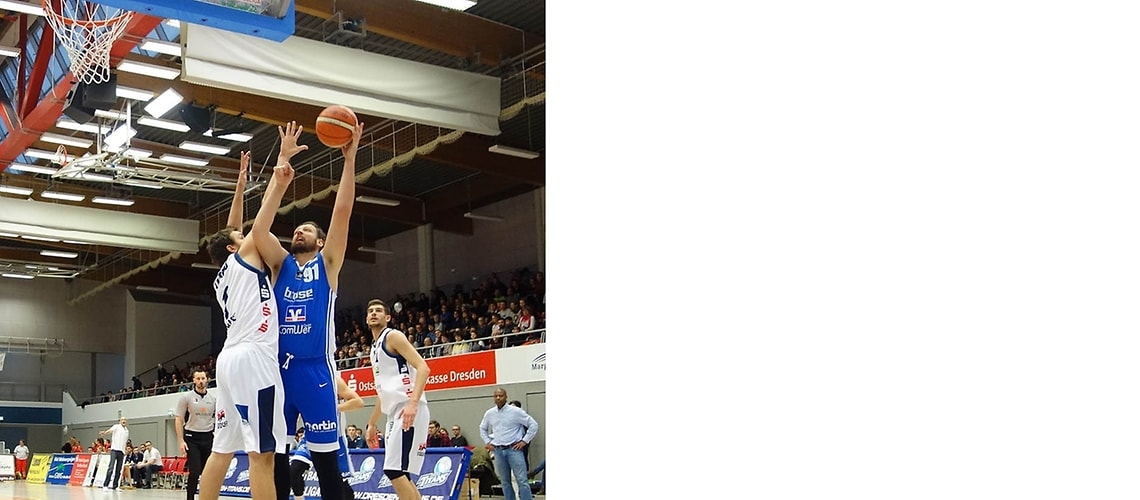 Dresden, 01-28-2018
The next away game, the next unlucky defeat! BBC COBURG lost by the narrow margin of 73:71 on the road at Dresden Titans, who were relegated from the ProA division last season, and so are still making no headway in the ProB South 2nd German Basketball League.
Unlike in the game in Würzburg a week ago, Coburg was wide awake from the outset, especially in defense, and only allowed the home side to put a meager two points on the board in the first six-and-a-half minutes. In particular the recuperated Christopher Wolf impressed in offense to begin with in the Margon Arena, which was well-filled with a crowd of almost 2,000 spectators, draining two buckets from beyond the arc after a beautiful string of passes to help put the visitors 13:19 in front after ten minutes.
In the second period, Dresden was then able to display its quality from downtown and turned the encounter around, among other things with two rare four-point plays (a three plus a bonus free throw after a foul). The club from Upper Franconia now struggled to find answers in offense and increasingly conceded turnovers. Daniel Stawowski's points in the zone and Yasin Turan with an artistic lay-up limited the home side's lead at the break.
And the players took the half-time pep talk by Head Coach Derrick Taylor to heart. Max von der Wippel, who was highly motivated against his former teammates, scored twice with half-distance shots. Jordan Burris put Coburg ahead again, forcing the Titans' Head Coach Nenad Josipovic to call a timeout. However, that was also not able to prevent the BBC going into the final period with a 60:62 lead thanks to a bucket from outside by Burris after a fast break and Turan's points after a classic give and go with von der Wippel.
The last ten minutes could hardly be beaten for excitement, as the game ebbed to and fro. The home side landed the first blows through the strong Marc Nagora, but Walde kindled the BBC's hopes by scoring. Those hopes grew when Dresden missed on the next attack and Jordan Burris drained a three to tie the scores at 71:71 with 12 seconds left on the clock. Yet as so often this season, fortune was not smiling on BBC COBURG. An extremely dubious foul called against Wolf allowed the Titans' guard Janek Schmidkunz to step up to the line and the playmaker did not show any weakness (73:71). Although Burris got a hold of the ball, his desperate attempt at a three was not able to avert yet another unlucky defeat.
Coburg nows faces a big game against FC Bayern Munich this Sunday, when it must make ground good in the battle to gain a favorable position going into the playdowns.