Coburg
BBC Coburg loses at home to FC Bayern Munich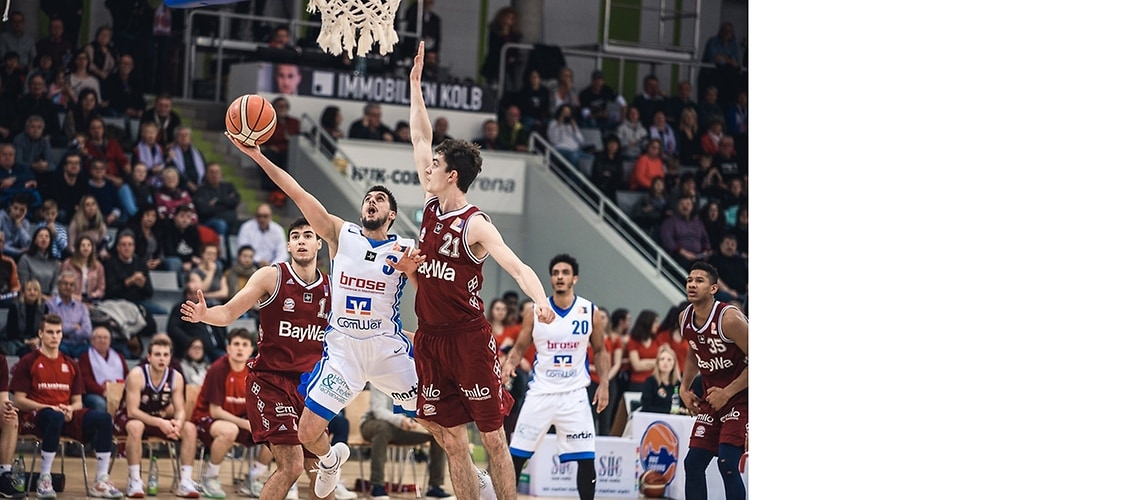 Coburg, 02-04-2018
After a disastrous second half, BBC COBURG deservedly lost to the reserves of FC Bayern Munich by 72:80 (35:26) to slip further down the bottom end of the table in the ProB South 2nd German Basketball League.
BBC COBURG initially succeeded well in putting the strategy dictated by Head Coach Derrick Taylor into practice in front of 1,135 spectators in the HUK-COBURG arena. Its objective was to keep moving the ball into the zone to exploit its centers' height advantages. As a result, it repeatedly managed to score easy points at the board or snap up offensive rebounds through Max von der Wippel and Daniel Stawowski. When Jordan Burris crowned a run of nine points without reply with a bucket from downtown to make it 17:8 for the club from Upper Franconia, the visitors' Head Coach Oliver Kostic was forced to give his players a loud talking to.
His youngsters then shed their initial nervousness and fought back point by point, above all thanks to Amar Gegic, their talented Bosnian guard. Munich's comeback was aided by Coburg losing possession on numerous occasions – it conceded a total of nine turnovers in the first half, a figure that grew to 19 by the end of the encounter. When the FCB's forward Jannick Jebens scored from outside to make it 23:22, it was Derrick Taylor's turn to talk to his players and he was able to calm them down, at least temporarily. The BBC's lead grew further, with Eividas Molosciakas energetically piercing the opposing defense to give his side a promising 35:26 lead at half-time.
However, someone must have put sleeping pills in Coburg's half-time tea – there can hardly be any other explanation for its performance in the second twenty minutes. From the outset, it surrendered the initiative to Bayern's youngsters almost without a fight and so boosted the confidence of a team that was actually more preoccupied with its own shortcomings. The FCB's top talent Karim Jallow, who failed to score a single point in the first half, now stepped into top gear and scored 22 points in the second half to turn the encounter around almost single-handedly.
Faced by this precarious situation, BBC COBURG's players responded by passing the buck to each other. Burris tried in vain to give his side a helping hand, but his teammates seemed to have gone to ground. No point guard was able to put any semblance of order into Coburg's attempts to build attacks. The centers, the secret to the home side's success at the outset, now hardly received any decent pass they could use and otherwise remained passive. When the strong Gegic made it 69:78 from the foul line, it was finally clear to the disappointed crowd that Bayern would take both points back home with it to the Bavarian capital.