Coburg
BBC Coburg pull off a shock victory against the league leaders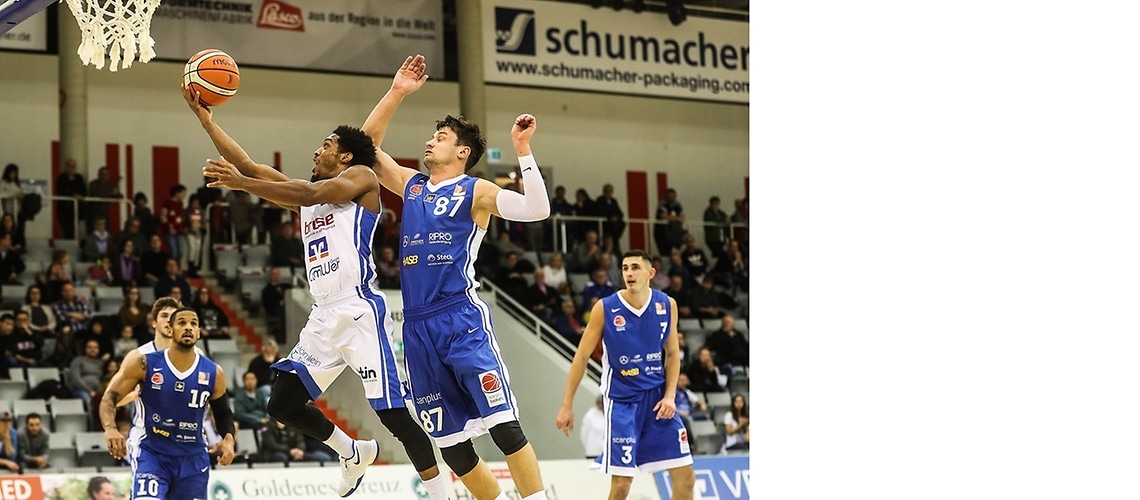 Coburg, 12-17-2017
Center Max von der Wippel opened the game with a successful hook throw for the home side, which was without Christopher Wolf, Daniel Stawowski and Sinan Özdil. The Byron Sanford festival then began in the HUK-COBURG Arena. With his 23 points in the first half, the U.S. guard ensured almost single-handedly that Coburg led by 26:22 after the first period and even stretched the gap to nine points midway through the second. BBC COBURG produced an outstanding first half, especially in offense. Byron Sanford and his teammates drove resolutely to the basket and won an impressive twenty free throws in the first half alone.
However, the calm and collected visitors from Elchingen always remained in touch, repeatedly causing problems for the club from Upper Franconia in the zone thanks to their size advantage. The Swabian club's tall players – the experienced center Kristian Kuhn, athletic Croat Jere Vucica and powerhouse Brian Butler – repeatedly snapped up second chances near the board to score easy points. Nevertheless, the home side managed to hold on to a narrow lead at half-time.
The encounter seemed as if it would run its expected course after the break. The visitors raised their game significantly after the break and BBC COBURG had problems. The newly promoted club added a meager ten points in the third period and trailed 63:67 at the end of it.
Yet Coburg was also able to step up a gear on the afternoon. At the latest when Byron Sanford came back on court and coolly continued his gala performance, BBC COBURG gained in belief and conviction that it could actually defeat the league leaders.
Yet its dream was almost shattered, but the visitors' wing Filmore Beck missed his half-distance shot in the final second of regular time. Yet it was Coburg who surprisingly had the better staying power in overtime. When the likewise outstanding Jordan Burris drained a bucket from downtown to make it 92:89 and Steffen Walde added two points from the foul line, the dream suddenly became reality. The league leaders then tried to stop the clock by committing fouls. However, Coburg did not show any nerves from the line and did not let victory slip from its grasp to capture a 105:97 home win after an outstanding performance.