Ansbach
BBC: Potential blowout win turns into nailbiter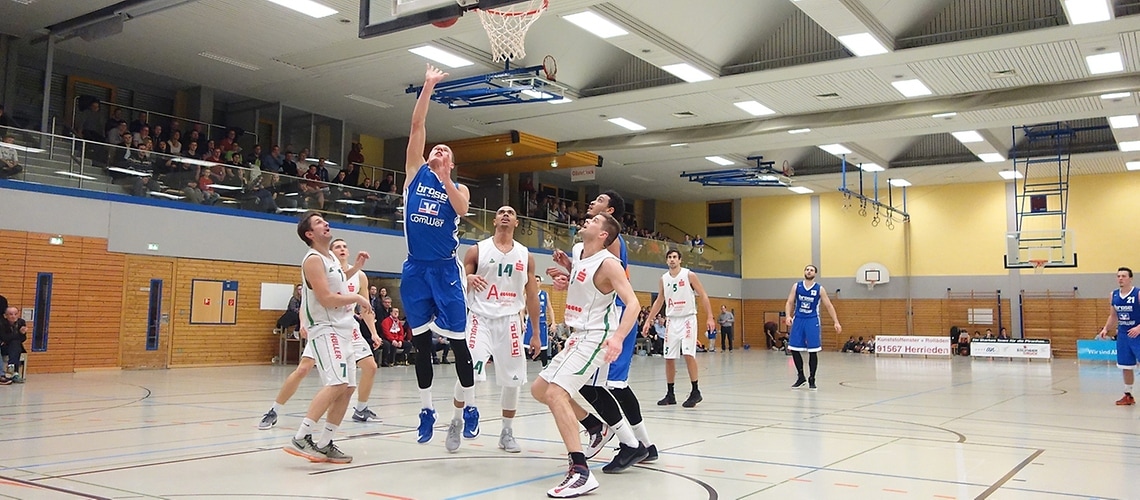 Ansbach, 02-11-2017
The good news first: BBC COBURG is still firmly entrenched in 1st place of the Regionalliga Southeast standings with a 16-2 record. However, it was a close call on Saturday, February 11, when the Upper Franconians almost let a 17-point lead slip away at 10th-ranked hapa Ansbach Piranhas before prevailing in the end, 80-77.
Jordan Burris and company came out firing on all cylinders and scored 15 points in the first 180 seconds of play. Burris alone connected on three early triples, all assisted by floor general Eividas Molosciakas. The hosts, however, answered with a 14-3 run of their own and tied the game at the end of the first quarter (20-20, 10.).
Three consecutive mid-range jumpers by wing Steffen Walde and a well-executed pick-and-roll action involving backup point guard Yasin Turan and big man Daniel Stawowski helped the visitors extend their advantage back to ten points at the half (35-45, 20.).
In the third stanza, BBC COBURG's lead ballooned to 17 points when Sebastian Wyczisk converted an offensive rebound and Fabian Franke hit a perimeter shot from the top of the key. Momentum then shifted when BBC's leading scorer Burris (24 points in 24 minutes of play) rolled his ankle trying to stop an Ansbach fastbreak. The California native remained on the court initially but was visibly hampered by the injury and conceded a costly and-one layup to Piranhas top scorer Nick Freer (27 points) that cut the lead to single digits.
With Burris on the bench nursing his foot, his teammates completely lost their footing on the hardwood and allowed the hosts to hoist a potential game-winning jumper with four seconds left on the clock. Luckily, Freer was unable to connect and the visitors clinched their 16th victory of the season at the charity stripe.
"Tonight's game was a harbinger of what the upcoming opponents will have in store for us. There will be no easy wins down the road, every team will bring their A game trying to knock off the number one", Coburg head coach Simon Bertram predicted.
On Friday, February 17, at 8.30 p.m., BBC COBURG will host 2nd-ranked VfL Baskets Treuchtlingen (15-3) in HUK-arena for an absolute showdown with huge championship implications. Bertram's troops will be back in action already on Sunday, February 19, when GGZ Baskets Zwickau come to town at 4 p.m.