Nuremberg/Bamberg
Brose Bamberg brings FC Barcelona to its knees after trailing by 26 points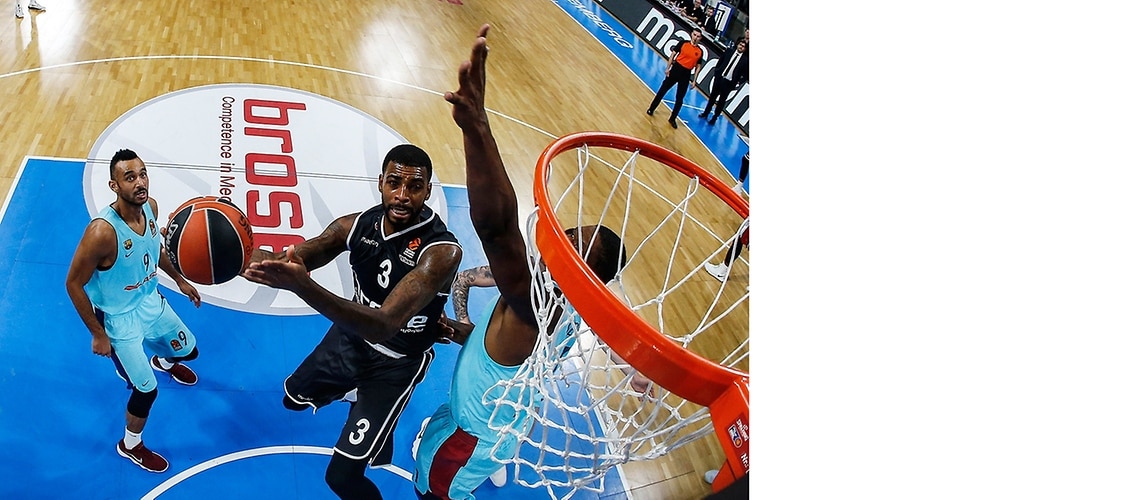 Nuremberg/Bamberg, 11-15-2017
What a magical, historical evening of basketball in the Nürnberger Versicherung Arena! No team had previously been able to come back and win a game in the Euroleague after trailing by 26 points.
The team of Head Coach Andrea Trinchieri actually got off to a good start, with Ali Nikolic and Ricky Hickman draining two buckets from downtown, but was then literally steamrollered by the confident FC Barcelona. The visitors scored off just about every move and the former Bamberg player Rakim Sanders in particular was unstoppable in offense. Barcelona put 38 points on the board in the first period, chalking up an excellent shooting percentage of almost 80.
Yet Trinchieri's players did not let their heads drop and kept on fighting. They now covered their opposite numbers more tightly in defense, did not give them so much space to build attacks and so did not concede easy points any more. Every good action in offense was also met with loud cheers from the 8,000 home fans. Augustine Rubit reduced the deficit to 21:40, but Barcelona was able to restore its former lead with four minutes left in the half. Then Dorell Wright got into his comfort zone, first winning free throws to make it 24:47, then adding a three (27:47). European champion Ali Nikolic snapped up an offensive rebound, buried the lay-up (31:49) and then forced his opponent to concede an offensive foul on the next move. Louis Olinde also kept the former NBA player Kevin Seraphim, who was outstanding in the first quarter, under control, won rebounds against him and set up the next points for Dorell Wright with a bold pass. And when Barcelona lost possession again a few seconds before the break, Luca Mitrovic scored to make it 37:49 after the first twenty minutes.
The second half began with a bang. Augustine Rubit was fouled while snapping up an offensive rebound and the referees even called an unsporting foul against Barcelona. Rubit drained the two free throws securely and then added a lay-up (41:49). Barcelona struck back to stretch its lead to 50:63. Two quick threes by Bryce Taylor and Maodo Lo and a thunderous slam-dunk by Bryce Taylor after a steal in Bamberg's own half sliced the deficit to 58:63. Ricky Hickman buried another three along with a bonus free throw to make it 62:66 shortly before the end of the period. The comeback continued with two successive buckets from beyond the arc by top scorer Dorell Wright (68:71). When Wright put his side 75:74 in front with a shot as he fell backwards despite being covered by two opponents, the jubilation among the fans in the Nürnberger Versicherung Arena was unbridled. Barcelona equalized, but Bryce Taylor put Bamberg ahead again with a three-pointer. Zisis out-dribbled two Barcelona players with a beautiful feint to score with a half-distance shot (82:79) and also bring up his 2,000th point in the Euroleague. And with 52 seconds remaining, the playmaker put the icing on his game by adding a lay-up to make the final score 84:81.