Bamberg
Brose Bamberg captures hard-fought win against Bremerhaven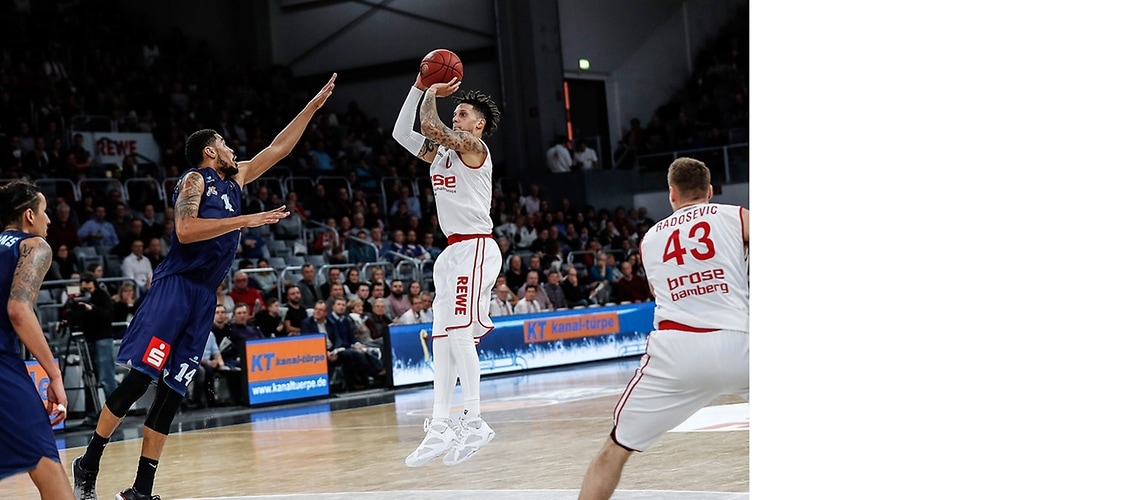 Bamberg, 12-11-2017
In an encounter that was postponed from the 4th matchday, German champions Brose Bamberg had greater problems against Bremerhaven Polar Bears than anticipated. Bamberg was only able to turn around a game in which it was almost constantly behind and win by 79:74 after taking the final period by the clear margin of 19:11.
In his team's fourth home game in the space of nine days, Head Coach Andrea Trinchieri used just a 10-man rotation. Malik Müller was no longer in Bamberg's squad after his contract had been terminated. Trinchieri was also missing Elias Harris, Luka Mitrovic and Bryce Taylor through injury and rested old hands Nikos Zisis and Dorell Wright. Bamberg had difficulties with the small rotation against the aggressive play of the club from Northern Germany. The Polar Bears were unusually strong in shooting from beyond the arc and snapped up four offensive rebounds in the first period to add four points at the second attempt. Only new signing Dejan Musli, who helped tie the score at 17:17 with his eight points, put up any stout resistance for Bamberg. Since Bremerhaven scored even more reliably from downtown in the second period, the home side went in at half-time trailing by 37:39.
After the break, Bremerhaven added three more buckets from outside in the space of 80 seconds to move 45:53 ahead. The reigning champs produced a small spurt with six points from Augustine Rubit to make it 51:55, but the Polar Bears struck back with three lay-ups in a row. However, that seemed to stir Bamberg's sense of honor: The home side changed its tactics in defense and was far more vigorous in that department. Trinchieri's team reduced the deficit to 60:63 by the end of the period thanks to four free throws by Lucca Staiger and a lay-up from Daniel Hackett. Ricky Hickman equalized at the start of the fourth quarter and gave Bamberg the lead with a bucket from beyond the arc just seconds later. The Polar Bears hit back one last time with a three (67:69). However, two thunderous slam-dunks by top scorer and top rebounder Dejan Musli and Augustine Rubit made it 79:73 and sealed the game shortly before the end.
Andrea Trinchieri commented: "When the other team has a three-point field goal percentage of 71 up to the end of the third period, you normally lose the game. Bremerhaven has good shooters and we let them shoot. After just three minutes, I realized it would be a tough."