Bamberg
Brose Bamberg defeats Jena on Musli's debut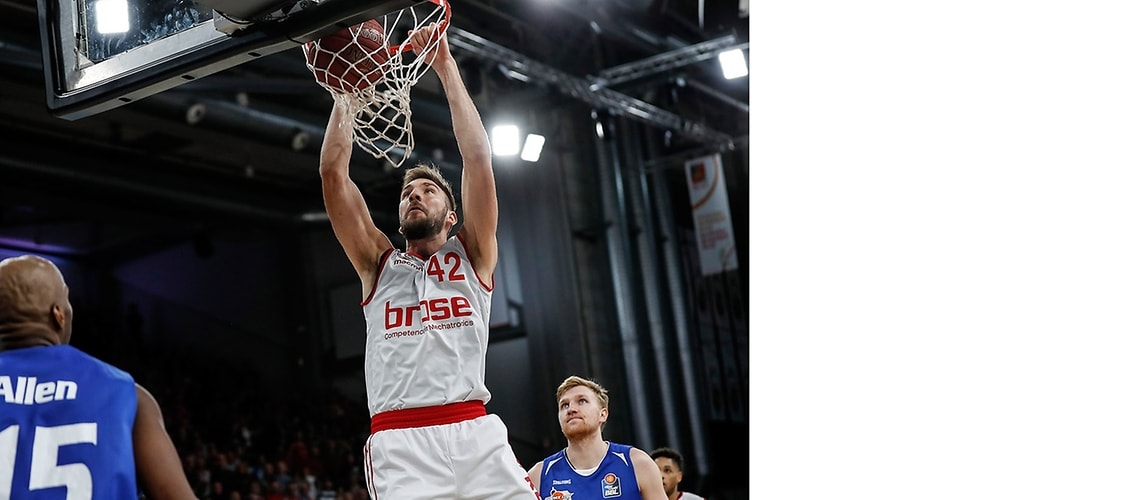 Bamberg, 12-09-2017
Bamberg was once more missing Elias Harris, Bryce Taylor and Luka Mitrovic through injury in the tussle against Jena. Head Coach Andrea Trinchieri also left out Ricky Hickman due to the limit on the number of foreign players in a squad in the German league. However, center Dejan Musli made his debut for Bamberg. The Serbian joined the German champions from Euroleague rival Unicaja Málaga on Thursday and has signed a contract that runs until the end of the season.
Bamberg got off to a strong start, with Lucca Staiger draining a shot from beyond the arc, followed by a beautiful lay-up by Augustine Rubit plus a bonus free throw. Yet the 6:0 lead did not last long – and that was down to a former teammate: Julius Jenkins, who won the championship and cup with Bamberg in 2011, scored four threes in a row in the space of 200 seconds. Bamberg was suddenly trailing by 6:12 and then changed its tactics in defense. Lucca Staiger buried his second bucket from downtown and Augustine Rubit won fouls below the basket, scoring four free throws in succession. Trinchieri's team now kept the visitors from scoring for almost five minutes, which enabled Dorell Wright and new signing Dejan Musli to complete a run of 14 points without reply (20:12). Jena reduced the deficit to 20:18 by the end of the period. Bamberg pulled 34:20 ahead at the start of the second quarter thanks to points from Musli and Wright. Yet Bamberg again committed too many mistakes, which Jena capitalized on to make it 38:34. Two threes by Maodo Lo and Dorell Wright on the buzzer restored the double-digit lead at the break.
At the start of the second half, Dejan Musli underscored what a strong reinforcement he will be for Bamberg below the basket. He first scored a slam-dunk following an assist by Daniel Hackett, then snapped up two rebounds and was able to steal possession once. When the 2.13-meter Serbian player was on court and under the basket, the visitors found it difficult to score points from its inside game. As a result, Bamberg built a solid 62:44 lead with points from top scorer Dorell Wright, Maodo Lo and Ali Nikolic and maintained that gap with four minutes to go. To Trinchieri's annoyance, however, his young talents allowed Jena to put a better complexion on the score in the final minutes. All in all, the German champions chalked up a comfortable 80:71 victory against Science City Jena.