Bamberg/Berlin
Brose Bamberg defeats Panathinaikos, but loses in Berlin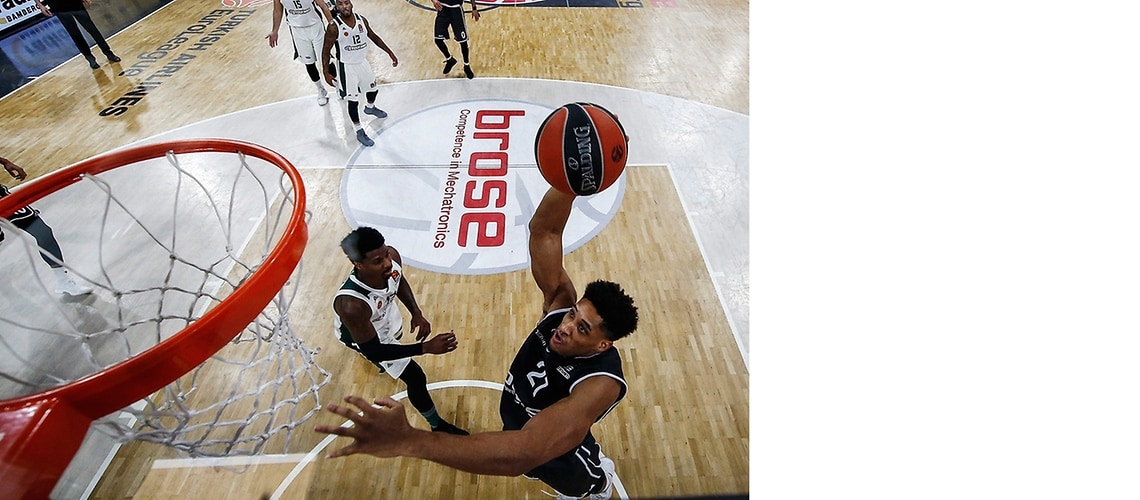 Bamberg/Berlin, 02-04-2018
Another weekend of mixed fortunes for the German champions! On Friday, they strolled to a magnificent, fighting 95:74 victory over Panathinaikos Athens in the Euroleague, but on Sunday suffered a setback with their seventh defeat on the road this season in the German league: After three anemic quarters and a 75:81 loss at Alba Berlin, Bamberg has slipped to eighth in the table.
Head Coach Andrea Trinchieri was back in attendance for the first time since his shoulder operation two-and-a-half weeks ago, delivered the pep talk for his team before the encounter and at half-time, but left the coaching to his assistant Ilias Kantzouris as his shoulder was still strapped in place. Trinchieri watched the games in the Brose Arena from his office and on TV from the team's dressing room in Berlin.
Trinchieri and Kantzouris had hatched a special surprise for fourth-placed Panathinaikos in the Euroleague: Louis Olinde was in the starting five for the first time – and the youngster repaid the trust put in him with a strong performance. He added six points in the first quarter and reaped standing ovations from the fans after his thunderous slam-dunk in the second. The 19-year-old turned in his best display for Bamberg so far, chalking up ten points and five rebounds. Kantzouris' other players also made it clear from the tip-off that they wanted to make amends for the disgraceful showing in Bonn: with a lot of fight in defense and passion in offense. And it was always someone else who put their stamp on the game: Dejan Musli notched up his seven points at the start and, after Olinde came into his own, it was Dorell Wright who stepped up a gear to score six points and put his side 23:17 in front. Augustine Rubit turned on the heat in the second period, adding 12 points to give Bamberg a 42:32 lead at half-time. Panathinaikos struck back after the break. Playmaker Nick Calathes scored 15 points to put the Greek club 48:50 ahead. Yet Bamberg overcame its weak spell: Maodo Lo (12 points), Augustine Rubit and Patrick Heckmann scored to recapture the lead for their side at the end of the period (57:55). The final quarter will go down in the club's history as one of the best by Bamberg in the Euroleague: Daniel Hackett was outstanding in defense and scored seven points at the other end, Dorell Wright (15 points) drained three buckets from beyond the arc, and Augustine Rubit added ten points to crown his career-best performance of 26 points and even win the MVP honor for Round 21 in the Euroleague. Bamberg extended its lead attack after attack: With three minutes remaining, it had surged 86:65 ahead and finished up by sweeping Athens aside by 38:19 in the final period.
On Sunday afternoon, Bamberg was not able to reproduce the magnificent basketball it showed in its win against Panathinaikos for three periods: The German champions conceded 18 turnovers in the first 30 minutes and were too shaky in defense, yet were only trailing by 31:36 at the break thanks to Berlin's weak shooting percentage and an accurate Dorell Wright, who scored 11 out of his haul of 17 points in the first half. Berlin turned on the heat after the break and stretched the gap to 44:60. The champions tried vehemently to avert the impending defeat in the final period: Lucca Staiger drained three successive buckets from downtown, one even with a bonus free throw. His ten points cut the gap to 66:69 with four minutes to go. Yet despite Nikos Zisis (11 points) with his three (69:72), Augustine Rubit with a lay-up plus free throw (72:75) or top scorer Dorell Wright (17 points) with free throws to make it 74:77 – Berlin had an answer on every attack in the final minutes and struck back immediately.
Assistant Coach Ilias Kantzouris commented: "We've had a very tough week, with a really poor performance in Bonn. I think we turned in a convincing display as a team against Athens and bounced back. We produced a good game over 40 minutes, had lots of energy, fought for every rebound and ball that was up for grabs – something we've lacked in the past few games. We had great problems with losing possession, in loose-ball situations and our movement off the ball to begin with in Berlin. We gained confidence with a number of offensive plays at the end of the third period and were able to change the rhythm of the game and come back into it. In the end, it was only small things that decided the encounter."
Brose Bamberg now faces a game on the road against reigning Euroleague champions Fenerbahçe Istanbul on Friday, February 9, 2018 (tip-off: 6:45 p.m.) and then, just 50 hours later, welcome German league leaders FC Bayern Munich to the Brose Arena on Sunday, February 11 (tip-off: 8:15 p.m.).