Bonn
Brose Bamberg defeats Telekom Baskets Bonn by 85:70 on the road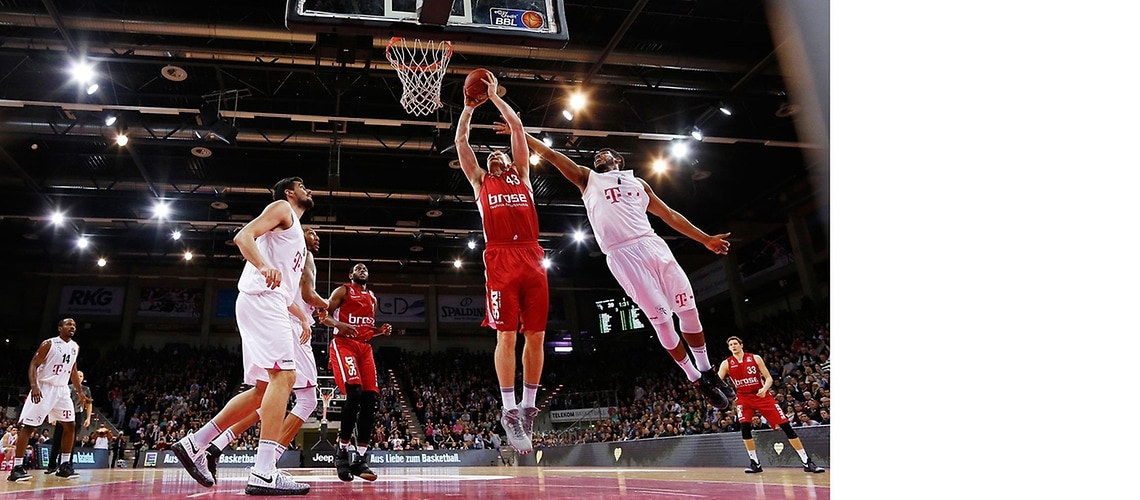 Bonn, 01-08-2017
After the dream start to the second half of the Euroleague group phase and their comfortable win over FC Barcelona, German champions Brose Bamberg also got off to a good start to the second half of the season in the easyCredit German Basketball League by beating Telekom Baskets Bonn by 85:70 on the road.
The encounter at the fifth-placed club began for Bamberg like so many away games in the German league this season a few days after outstanding tussles in the Euroleague. Fired on by the 6,000 home fans, Bonn began at full tilt. In particular Ryan Thompson wanted to prove something to his former club and chalked up ten points right away to put Telekom Baskets 14:7 in front. Head Coach Andrea Trinchieri therefore called a timeout and told his players to show more "aggression" – and they certainly did so in offense to begin with: Two buckets from beyond the arc by Darius Miller and one from Nikos Zisis tied the scores and Bamberg finished the period trailing by just 21:22. And it also tightened up its defense in the second quarter. Bonn was not able to drain a bucket for six minutes, while Bamberg produced a run of 15 points without reply thanks to slam-dunks by Daniel Theis and Leon Radosevic, lay-ups from Jerel McNeal and Nicolo Melli and a three by Fabien Causeur. Bonn had to thank the outstanding shooter Ryan Thompson, who chalked up 20 of his 33 points before the break, that it only trailed by 46:35 at the break.
In the second half, the German champs did not leave anyone in doubt as to who was the superior team. Bonn cut the deficit to six points after the break (48:42) and to eight at the beginning of the final period (68:60). However, Bamberg briefly stepped up a gear each time. Allowed so much free space unchallenged under Bonn's basket, Daniel Theis (12 points) and Leon Radosevic virtually staged a "slam-dunk contest," chalking up a combined total of eight. Indeed, top scorer Radosevic produced a very strong performance in offense: The center drained 13 of his 14 shots in his haul of 22 points, a personal best in the German league. Brose's new signing Jerel McNeal likewise impressed with 11 points, 4 rebounds, 3 steals and an assist – a great German league debut!
Andrea Trinchieri commented: "Congratulations to Ryan Thompson on how he played. He was magnificent. I'm happy we found a way to recuperate quickly after the battle in the Euroleague and produce a good game. We got into our stride in the second period and were able to use our bench to full effect. It was great to see how Maodo Lo defended against Josh Mayo. For a player whose qualities lie in attack, that was a good performance in defense by Maodo."
Bamberg now face a 3,000-kilometer trip to Kasan in Russia for a Euroleague encounter on Thursday, January 12, 2017. The tip-off against the former team of Bamberg's Head Coach Andrea Trinchieri is at 5:00 p.m.