Bamberg
Brose Bamberg gets some shooting practice for ZSKA against Vechta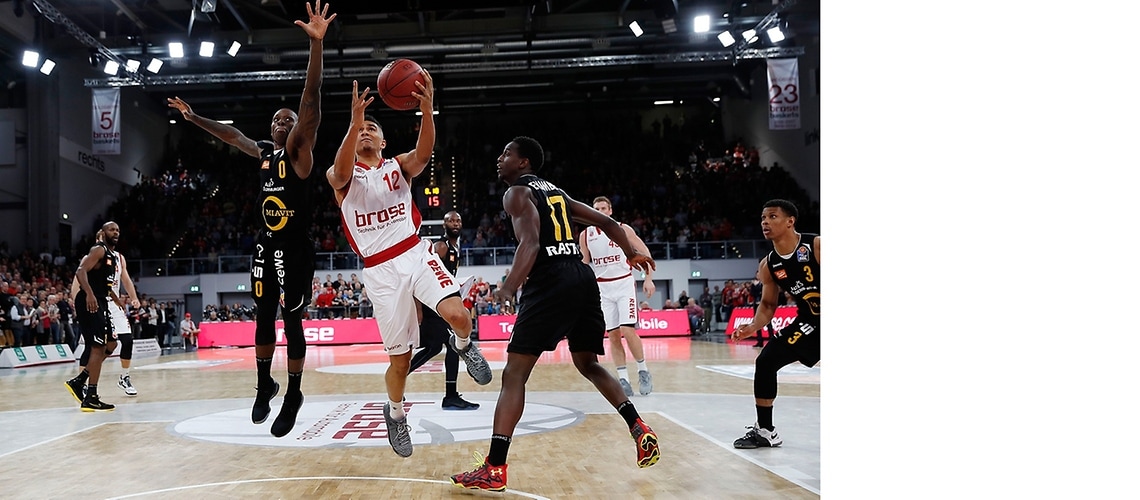 Bamberg, 11-29-2016
The 12th win out of 12 German league games. As expected, Brose Bamberg defended top spot in the easyCredit German Basketball League by defeating newly promoted Rasta Vechta by 104:75.
There was a surprise for the 6,580 spectators in Bamberg before the game: Head Coach Andrea Trinchieri was not on the sideline due to illness and his place for the game against next-to-bottom Vechta was taken by Ilias Kantzouris. After just a few minutes, the Greek assistant coach put on captain Elias Harris, who had recovered from his knee injury three-and-a-half weeks ago faster than expected. Bamberg's second giant center Vladimir Veremeenko, who has been out of action recently due to back problems, is also back in training and did a few warm-up exercises before the encounter. Bamberg found it difficult to get into the game to begin with and the impudent league newcomers from Lower Saxony exploited that and even went 15:13 in front after seven minutes. Captain Elias Harris took things into his own hands and turned the game around with seven points in a 9:0 run by the home side to make it 22:15. At the start of the second period, the German champions made life tough for the visitors with stronger defending. That resulted in a number of fast breaks with easy points (27:21), after which the shots from beyond the arc finally began to drop: Lucca Staiger added two, Darius Miller made a four-point play when he was fouled while draining a three, then Nikos Zisis and Maodo Lo scored from downtown to help their side surge more than 20 points ahead (44:23). The home side stretched the gap to 27 points (56:29), but a bad in-bounds pass by Bamberg enabled Rasta to add four points in the final 20 seconds before the break to make it 56:33.
Two days before the big Euroleague game against Moscow, coach Kantzouris rested his regular players in the second half. Only the strong Maodo Lo (14 points) and Daniel Theis (15) were on court for more than 20 minutes. However, Bamberg's lead continued to grow even with young playmaker Ali Nikolic, who came into the squad in place of the rested Fabien Causeur. Nikos Zisis (10 points) scored a three to increase to gap to 82:51. Captain Elias Harris had the honor of bringing up the 100 – the top scorer (16 points) and top rebounder (7) made a lay-up plus a free throw to make it 100:65 and crown his strong performance.
Assistant coach Ilias Kantzouris commented: "Vechta has lost some games unluckily and its position in the table doesn't reflect its true strength. We wanted to approach the game by focusing on defense and in particular defend well against Machado, the league's assists leader. We did a good job, took the game seriously at all times and spread the time players had on court well. That's very important for us at the moment, given our packed schedule. What counted most of all was our attitude – we only thought about today and not about tomorrow."
The German champions now face a tough challenge in the Euroleague on Thursday, December 1, 2016, when top-of-the-table and reigning European champions ZSKA Moscow visit the Brose Arena. The game tips off at 8 p.m.