Moskau/Bonn
Brose Bamberg loses two games and two players through injury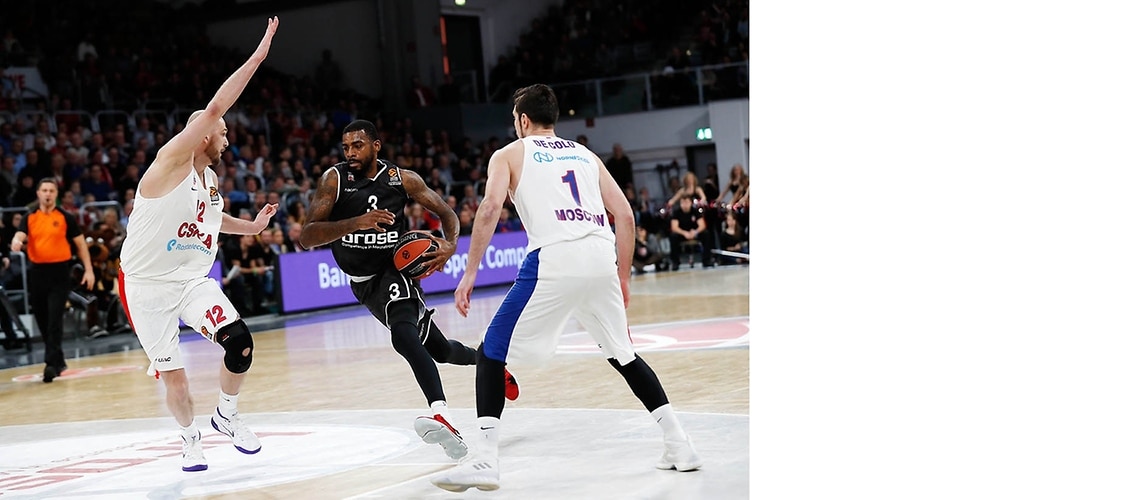 Moskau/Bonn, 01-28-2018
What a weekend for the German champions Brose Bamberg! First a narrow 72:81 defeat on the road at Euroleague leaders CSKA Moscow in an encounter where Daniel Hackett sustained an injury. Just 48 hours later, the team of Assistant Coach Ilias Kantzouris went down 69:106 in the German league at Telekom Baskets Bonn and also lost Leon Radosevic after he twisted his ankle nastily.
Brose Bamberg can probably bury its dream of reaching the Euroleague playoffs for the first time. The German champions lost 72:81 at ZSKA Moscow, their 13th defeat in the competition this season. Yet Bamberg produced a good performance at the army sport club and led 7:2 at the beginning. It was even 19:18 ahead going into the second period, thanks to eight points from Dorell Wright. But whereas Bamberg's Daniel Hackett dislocated a finger and was not able to continue, CSKA leveraged its long bank to impressive effect. For the first time this season, Moscow was able to call on its full squad and, thanks to strong defending, it caused Bamberg great problems in attack. Kantzouris' team managed to add just 11 points, whereas Moscow's stars Nando de Colo and Cory Higgins drained point after point to help their side pull 39:30 in front. After an evenly poised third period, CSKA was able to extend its lead with a 9:2 run at the start of the final quarter. Top scorer Dorell Wright, Maodo Lo, Augustine Rubit and Leon Radosevic reduced the deficit to below ten points at the end.
Bamberg were back on court just 47 hours later. The game on the road at Telekom Baskets Bonn, who were just below their rivals in the table going into the encounter, could have turned out to be a "four-pointer" in the battle for a playoff berth. It goes without saying that Daniel Hackett, who is especially strong in defense, but was still suffering from the finger injury he picked up in the game against Moscow, was painfully missed by the German champions. First of all, Bonn's center Julian Gamble exposed the tall players below Bamberg's basket, notching up nine points in the first quarter and leaving the visitors trailing by 12:23 after nine minutes. Four buckets from beyond the arc plus a bonus free throw in the space of three minutes put Bamberg 16:36 behind at the start of the second period. When Leon Radosevic twisted his ankle nastily and joined Elias Harris, Bryce Taylor, Luca Mitrovic and Daniel Hackett on the injury list, Bamberg's resistance crumbled. Bonn scored as if possessed, while Bamberg turned in an anemic performance from then on. With the score at 22:51 after 18 minutes, the visitors produced a spurt thanks to Augustine Rubit (16 points) to close the gap to 35:53, but then Bonn scored again at will, draining an incredible 14 out of 23 attempted threes to keep on pulling away by the end. It was the widest losing margin in the era of Head Coach Andrea Trinchieri, even though he was not on the sideline because of his shoulder injury. Bamberg has now slipped to seventh in the domestic table.
Assistant Coach Ilias Kantzouris commented: "We did a good job in defense in Moscow, but operated poorly in offense a number of times in the second period and missed too many shots. So the final score was unfortunately not as close as it could have been and we'd have liked. I'll keep my remarks about the game in Bonn short. Our performance there was a disgrace. Everyone has to take a good hard look at themselves. German champions can't and mustn't play like that!"