Moscow
Brose Bamberg misses chance to move into a playoff spot after losing in Moscow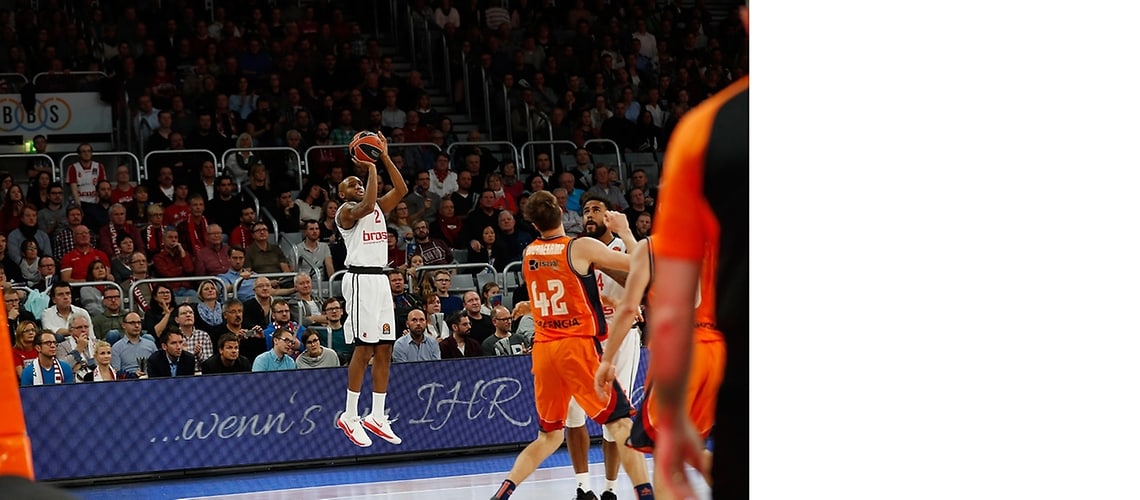 Moscow, 11-30-2017
A 73:82 defeat on the road against its direct rival Khimki Moscow means Brose Bamberg missed the opportunity to climb into a playoff berth in the Euroleague. The team of Head Coach Andrea Trinchieri team kept the encounter in the Russian capital close until midway through the third period, but then superstar Alexej Shved shot the home side to victory with 13 of his total haul of 26 points.
The German champions were without Luka Mitrovic, who suffered a muscle injury in his thigh in training – the next key player Trinchieri was missing in addition to Elias Harris, who will be out of action for a long time. Leon Radosevic and Augustine Rubit were not able to compensate for that loss against a strong Russian defense. Khimki closed down any space below the basket for 40 minutes. Bamberg was able to put a good complexion on the result in the first half thanks to good shooting percentages from outside, draining five out of nine shots from beyond the arc. Ricky Hickman's three put his side 9:12 in front, but Khimki subsequently produced a small spurt to move 40:33 ahead. Bryce Taylor, top scorer Hickman and Aleksej Nikolic helped reduce the deficit to 42:40 at the break.
Trinchieri's team got off to a poor start in the second half, failing to score in two-and-a-half minutes and conceding easy points at the back (49:40). After calling a timeout, the German champs returned in better form and took the lead again after buckets by Ricky Hickman and Daniel Hackett (51:52). Khimki then turned on the heat once more to leave Bamberg trailing by six points going into the final period. Bryce Taylor immediately drained his fourth bucket from downtown to make it 62:59. Bamberg kept the gap down to four points until the 35th minute, when Khimki's superstar Alexey Shved took matters into his own hands. In the space of two minutes, Shved scored eight points and made two assists to help his side surge 78:66 ahead with 120 seconds left. Bamberg lacked the strength to stage a comeback and win as it did against Barcelona and Valencia.
Andrea Trinchieri commented: "Congratulations to Khimki. Alexey Shved killed us off. I think we were solid given the circumstances. We produced a good display. We made too many mistakes at the start of the third period, but then we managed to come back. When we were back in touch, Shved came into his own and scored everything. The positive aspect: We played like a team. We're improving steadily."