Bamberg
Brose Bamberg tears FC Bayern apart by 82:59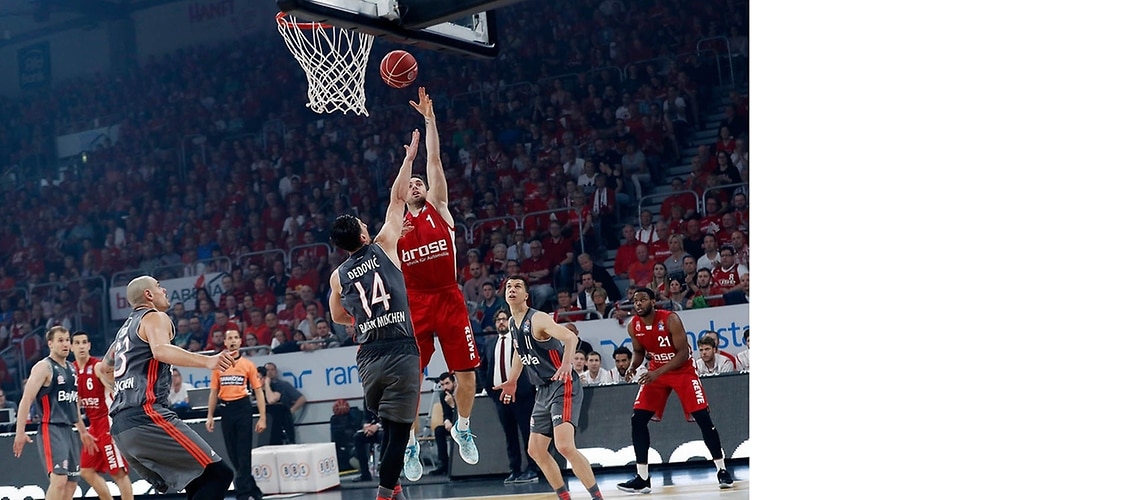 Bamberg, 05-21-2017
That was a true show of force by the champions, cup winners and title-holders! Brose Bamberg trounced its challenger FC Bayern Munich deservedly by the wide margin of 82:59 (45:23) to take a 1:0 lead in the playoff semi-final series. The foundation for the commanding victory was a 19:2 lightning start in the first seven minutes.
With an incredibly strong performance in defense, the team of Head Coach Andrea Trinchieri constricted the radius of Munich's offensive ranks and forced the visitors to concede four turnovers on their first five attacks. And when when Bayern did subsequently create opportunities for difficult shots, the ball missed its mark. In particular Leon Radosevic (7 rebounds, 3 steals) was insuperable for Bayern: The Croatian player cleaned up powerfully under the basket and easily dominated center Maik Zirbes, Munich's Euroleague stalwart. However, Bamberg also needed a few minutes to get into its stride in offense. Darius Miller quickly put Bamberg 3:0 ahead with a bucket from beyond the arc, but it was only three minutes later that the reigning champs sparked a display of fireworks in offense with a lay-up by Leon Radosevic. A bucket from outside by Nicolo Melli, then a lay-up and free throws from Fabien Causeur made it 12:0 after five minutes. And the title-holders stretched their lead to 19:2 through Theis and Causeur to the jubilant roar of the 6,000 Bamberg fans. It was only after eight minutes of play that Bayern put its first points from the floor on the board. However, since Bamberg often kept on committing fouls to prevent Munich from scoring easy points off lay-ups, the visitors were able to cut the deficit to 23:10 with free throws. The picture was the same in the second period: Bayern often ran up against Bamberg's solid defensive wall, conceding 11 turnovers up to the break, whereas the home side kept on adding to its tally. Playmaker Nikos Zisis put his side 38:15 in front shortly before the break with nine of his 12 points. Janis Strelnieks brought a magnificent first half to an end by draining a buzzer-beating three from eight meters to make it 45:23.
Although Bamberg failed to score for more than three minutes after the break, Munich was not able to reduce the gap decisively (45:28). Darius Miller (11 points) restored his side's former lead with a lay-up and his third bucket from downtown (52:28). Janis Strelnieks and top scorer Fabien Causeur (16 points) once again demonstrated their accuracy in shooting from beyond the arc and gave their team a comforting 30-point cushion (61:30). From then on, Bamberg took things a lot more casually, but Maodo Lo (13 points) dashed the visitors' final efforts by scoring ten points in the final period.
Andrea Trinchieri commented: "I expect Munich to strike back in game 2. It was like in every best-of-five series: One team goes ahead and the other will reply. We played well in defense across the board today and so also repeatedly made up for the mistakes we made. We know Bayern Munich is a class team. Anyone believing it's now more than 1:0 is committing a real sin. Bayern will raise its level and we'll then have to be even better to withstand it."
The second game in the playoff semi-final against FC Bayern Munich is on Thursday, May 25, 2017. The tip-off in the Audi Dome is at 5:30 p.m.