Bamberg
Brose Baskets capture German championship with a record clean sweep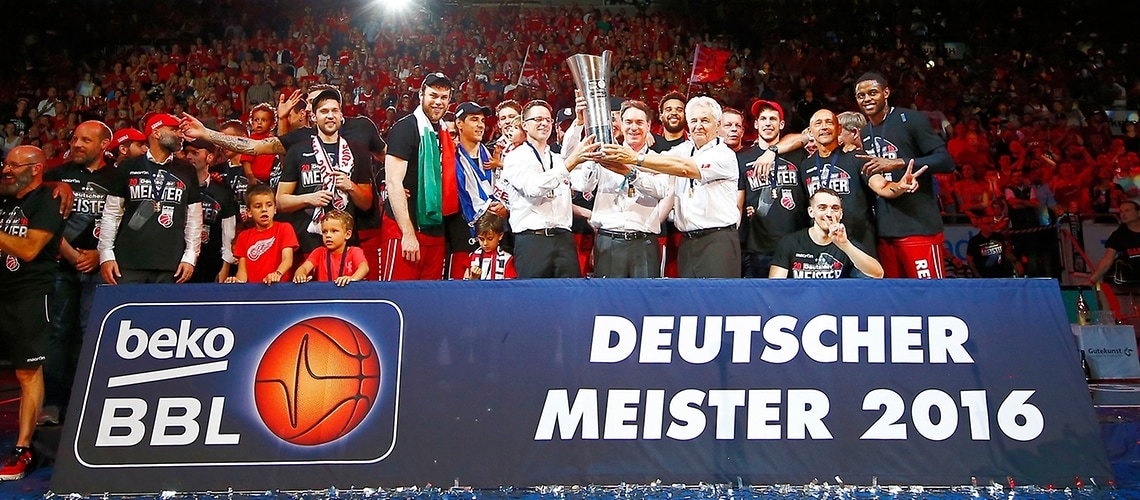 Bamberg, 06-12-2016
Brose Baskets have defended their title and become German champions for the eighth time with a 92:65 win over ratiopharm Ulm in the Brose Arena. With a clean sweep of 3:0 in the series and 9:0 in the entire playoffs, Brose Baskets have broken and equaled a number of records: after Bayer Leverkusen and Alba Berlin, Bamberg is only the third club to remain undefeated in the playoffs – and chalked up an average point differential of 23.4 to surpass the previous record set by Bayer Leverkusen in 1992 (19.8).
From the very first second of the game, Brose Baskets made it clear that they intended to keep the trophy in the Brose Arena: Nicolo Melli and Brad Wanamaker produced a run of 12 points without reply to put their side 17:6 in front and Ulm only woke up when Ulm's Chris Babb drained a three from the corner on the buzzer at the end of the period to make it 25:17. Then, as in game two, the opposing side from Swabia made life tough for the players of Head Coach Andrea Trinchieri and even managed to snatch a 37:34 lead through their top scorer Raymar Morgan and playmaker Per Günther two minutes before half-time. Thanks to four free throws by the strong Elias Harris (10 points, 8 out of 8 free throws), the title holders went in with a narrow lead of 38:37.
After the break, Darius Miller in particular showed why he was presented the award of the final's most valuable player (MVP) at the winners' ceremony: his two buckets from beyond the arc in quick succession with Bamberg trailing 38:41 turned the game around. Shortly afterwards, Patrick Heckmann buried a further bucket from outside – a 13:0 run enabled Trinchieri's team to surge 51:41 ahead in the 25th minute. Janis Strelnieks and the former Ulm player Daniel Theis (12 points) drained further threes to enable the home side to take the period by 27:12 and open up a reassuring 65:49 cushion going into the final ten minutes of the season. And they turned into a demonstration of superiority where the old and new German champs put on a show for the crowd: top scorers Brad Wanamaker and Darius Miller increased their haul to 19 points and then midway through the period championship-winning coach Andrea Trinchieri replaced all his key players individually to let them enjoy standing ovations from the 6,800 Bamberg fans. After the winners' ceremony in the Brose Arena, the team and officials drove in a motorcade to the center of Bamberg, where – after the party on the Maxplatz square with their fans – they signed their name in the city's Golden Visitors' Book.
Andrea Trinchieri commented: "Ulm was a strong opponent in the final series and we really had to dig deep. I've an amazing group of players. Every day it was another one of them who gave us a push. My team had the will to play together for ten months. That's not commonplace. It's easy to say: we're the best team. But actions speak louder than words. I believe it's a worthy finish to this great season for us."