Bamberg / Munich
Brose Baskets ready for Playoffs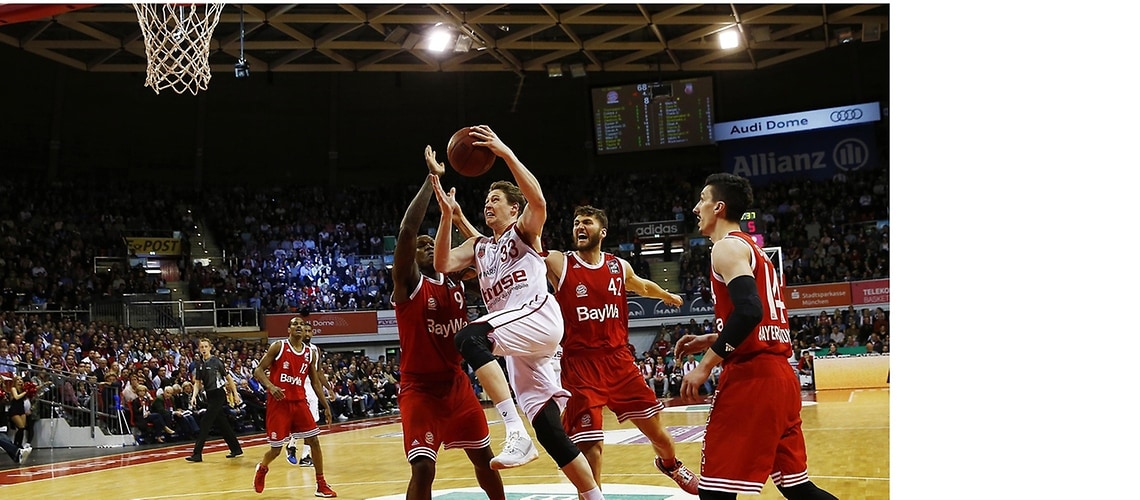 Bamberg / Munich, 04-24-2016
Brose Baskets got back to winning ways in impressive fashion following their defeat in Oldenburg last week: On a weekend with two match days in the German Basketball League, the team of Head Coach Andrea Trinchieri strolled to a commanding 92:66 victory against Basketball Lions Braunschweig on Friday evening, then followed that up with a fiercely contested 97:90 win in the battle of the top two teams on the road against last year's runners-up FC Bayern Munich. The win over their closest rival means the reigning German champions have secured first place after the regular season.
Even without captain Brad Wanamaker, who had Achilles tendonitis and so was rested, Brose Baskets had no problems in their home game against Braunschweig from Lower Saxony. Thanks to a focused start by Bamberg and its high intensity in defense, the home side surged into a 24:6 lead after eight minutes to as good as decide the encounter. The period ended 26:11, after which Brose Baskets produced a clear demonstration of their superiority in all departments, taking the second quarter by 29:16 to lead 55:28 at half-time. After the break, Trinchieri was able to rest his key players for the duel against Bayern – only playmaker talent Aleksej Nikolic was on court for more than 25 minutes. As a result, the haul of the game's top scorers was pretty modest: Daniel Theis scored 13 points, Nicolo Melli, Elias Harris and Darius Miller 12, and Nikos Zisis (11) and Leon Radosevic (10) also got into double digits against the tenth-placed side.
The top game of the weekend, champions against runners-up, was as expected a tough tussle for Brose Baskets. Trinchieri's team got off to a good start, as Brad Wanamaker and Nicolo Melli put their team 8:2 in front. However, Bayern quickly changed its tactics in defense and managed to tie the scores at 20:20 shortly before the end of the period. Trinchieri's players were then too slipshod, especially with its open shots from beyond the arc, and went six minutes without scoring, enabling the FCB to produce a run of 14 points without reply straddling the periods and surge 31:20 ahead. Brad Wanamaker prevented the home side pulling further in front with seven of his 16 points from the first half, then the threes finally began to drop: Janis Strelnieks, Patrick Heckmann and Darius Miller drained buckets from outside to equalize by the break (41:41).
Yet after the break, the German champs lost their rhythm and the home side opened up a 68:51 gap shortly before the end of the third period. The three by Nikos Zisis at the end of the quarter to make it 68:54 acted like a clarion call for Bamberg. The reigning champions produced a 8:0 run at the start of the final period, especially thanks to the strong Patrick Heckmann (20 points): four points from Heckmann, a slam-dunk by Elias Harris and a lay-up from Zisis closed the deficit to just 62:68 – Bamberg was back in touch. With three minutes left, the outstanding top scorer Brad Wanamaker (29 points) slashed the gap to 74:75 in one play (3 free throws thanks to technical fouls by Bayern and a lay-up!), and then put his side 81:79 in front. However, the FCB equalized with 0.6 seconds on the clock (83:83). Despite being without Elias Harris, Darius Miller and Daniel Theis (all of whom had fouled out), Brose Baskets outplayed FC Bayern in overtime. Old-hand Nikos Zisis kept on seeing gaps in Bayern's defense and made seven of his 16 points in overtime. And after his lay-up to put his team 85:83 ahead, Nicolo Melli also took his game to another level, especially in defense, stopping three Bayern attacks with tremendous blocks. Patrick Heckmann and Brad Wanamaker sealed victory with free throws: a 97:90 win that gives Bamberg bragging rights shortly before the playoffs start.
Andrea Trinchieri commented: "We used a deep rotation against Braunschweig and wanted to get every one of us into a good rhythm. We succeeded well in that in the first half, lost this rhythm a little in the second half, but ultimately did our job. The game in Munich was great fun to watch. There were many comebacks. We had to work hard to find a way to turn the game in our favor. We didn't give up and showed a lot of character, especially in overtime. We now have home court advantage for the whole playoffs and that was our objective."
Next weekend also has two match days to bring the regular season to a close. Brose Baskets have two home games this time: Alba Berlin comes to the Brose Arena on Friday evening, April 29 (tip-off: 8 p.m.), then it is the turn of Bremerhaven Polar Bears on Sunday (tip-off: 5 p.m.).