Bayreuth
Brose Baskets stroll to victory against Bayreuth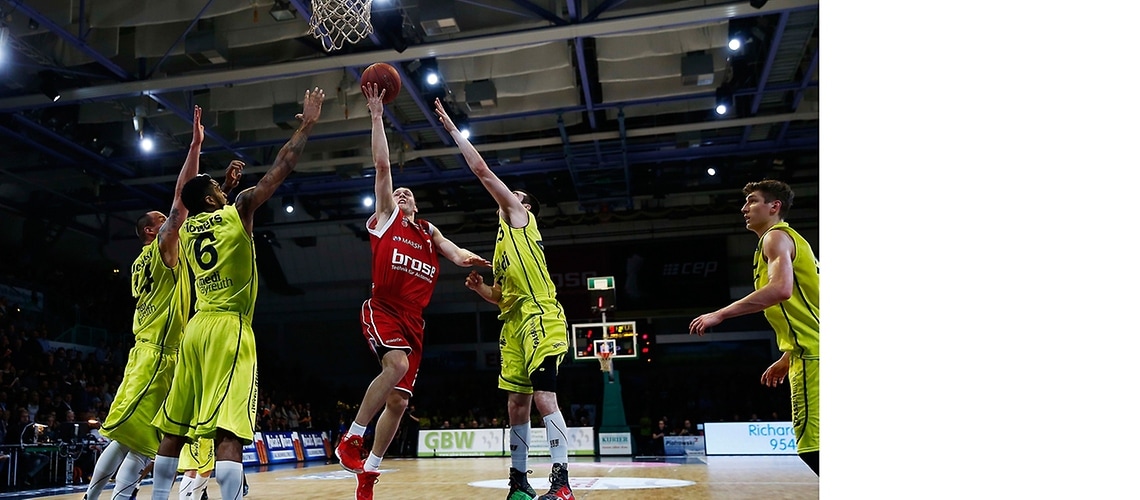 Bayreuth , 03-27-2016
Brose Baskets came away from the city associated with Richard Wagner with a comfortable 85:53 win in the local Upper Franconian derby. Just three days after their historic win over CSKA Moscow, the German champions had no problems at medi bayreuth and, after opening up a quick 12:2 gap, kept on pulling further and further away.
There was one surprise before the game: out of respect for the serious injury to Phoenix Hagen's DJ Covington in Bamberg's away game, Brose Baskets wore Hagen fan shirts emblazoned with the words "Come Back Stronger" and a likeness of Covington in the warm-up. Head Coach Andrea Trinchieri was without Elias Harris, who had stayed at home with a gastrointestinal virus. Brose Baskets got off to a furious start and wanted to put their local rival in its place right away: two buckets from beyond the arc by Nicolo Melli (10 points) and three successive lay-ups by Leon Radosevic made it 12:2, a lead that was extended to 19:7 after five minutes. Only then did Bayreuth get more into the game, reducing the deficit briefly to 23:20. Brose Baskets stepped up the pace again and produced a run of 8 points without reply through Janis Strelnieks, Patrick Heckmann, Yassin Idbihi and Brad Wanamaker to seal the game. In the last two minutes before the break, Bamberg stretched its lead even further, as Janis Strelnieks (9 points) made it 44:29 with two lay-ups.
The German champions remained in control at all times in the third period in front of a crowd of 3,439 in the sold-out Oberfrankenhalle. Bamberg thwarted Bayreuth's efforts in offense with aggressive defending, conceding a mere eight points to the home side. As a result, Trinchieri's team pulled further away, despite the fact that the Head Coach gave his key players in particular less time on court. After 30 minutes, the visitors had already amassed a 61:37 lead. In the final period, Bamberg let its grip slacken a little in defense and the home side was increasingly able to get through the gaps in it. Nevertheless, Brose Baskets kept on increasing its lead. Bamberg drained six buckets from outside: two by Nikos Zisis (12 points) and top scorer Patrick Heckmann (13) and one each by Lucca Staiger and Brad Wanamaker (11 points, 9 assists). Heckmann made the final score 85:53 with a lay-up with two seconds left on the clock.
Andrea Trinchieri commented: "I think we took the game very seriously and took good care of the ball. We only conceded five turnovers. Patrick Heckmann had an excellent game. He didn't play against CSKA because we had a different game plan. He was ready in the derby, everyone approached the game very professionally. We defended well and let the ball run well in offense. Now we have a few days' time to prepare for a game in which we can write history."
On Thursday, March 31, 2016, Brose Baskets face what is probably their most important game in the Euroleague Top 16, when they come up against FC Barcelona Lassa at the Palau Blaugrana (tip-off: 8:45 p.m.). A victory would increase their chances of reaching the Euroleague playoffs, since they won the earlier game against "Barca" by 74:70.