Bamberg
Brose Baskets trounce Ulm and extend contract with Radosevic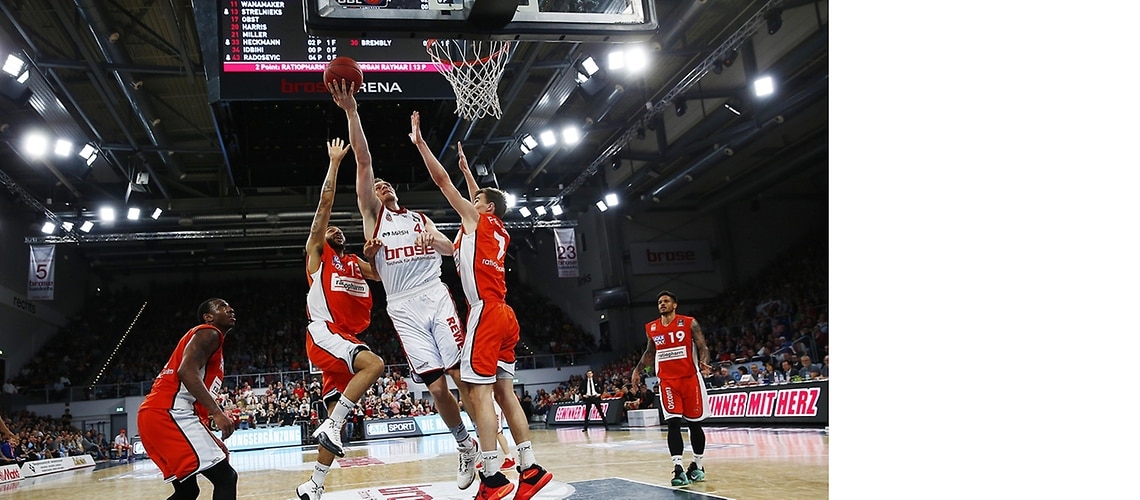 Bamberg, 04-10-2016
Not only the commanding 100:67 victory by Brose Baskets over rival playoff contenders ratiopharm Ulm gave the 6,800 Bamberg basketball fans reason to celebrate: the announcement after the game that center Leon Radosevic had extended his contract until the end of the 2018/19 season also sparked cheers among the crowd in the Brose Arena.
Head Coach Andrea Trinchieri was able to call on all his players, whereas seventh-placed Ulm traveled to Bamberg with big injury worries. Playmaker Per Günther had a tooth knocked out in training and had to undergo an operation. The club from Swabia was also missing two other key men: Augustine Rubit and the former Bamberg player Carlon Brown. Yet that was not noticeable in the opening minutes: Bamberg began its first German league game since being eliminated from the Euroleague a little sedately, whereas Ulm turned on the heat right away to leave the home side trailing by 9:18 after six minutes. Andrea Trinchieri responded with a timeout and asked Leon Radosevic to cover the strong Raymar Morgan. That reaped rewards: free throws by "Rado," a bucket from beyond the arc by Darius Miller and a lay-up by Brad Wanamaker meant Brose Baskets closed the deficit to 16:18 in the space of 40 seconds and, thanks to six points from Miller, were "just" 21:24 behind going into the second period. And that is when the home side finally picked up speed: with its first 8:0 run, the home side captured the lead (29:24), then produced another 19:2 run to make it 54:34 at half-time and as good as seal the game. With an outstanding shooting percentage of 79 below the basket, Brose Baskets did not give Ulm a chance; moreover, the visitors could not find an antidote to the home side's strong defending in the second period, adding a meager ten points.
After two threes by Daniel Theis to stretch the lead to 60:36, Bamberg took things too easy for a few minutes, allowing Ulm to cut the deficit to 62:48. Trinchieri again managed to motivate his players in a timeout. Leon Radosevic (15 points) added two slam-dunks and a lay-up plus a bonus fee throw, while Nikos Zisis drained a three to make it 72:48. By the end of the period, the German champs had surged 30 points ahead (83:53). In the final period, Bamberg's Head Coach was able to spread the time his players had on court. Apart from top scorers Janis Strelnieks (17 points), Darius Miller (16) and Leon Radosevic (15), Daniel Theis (13) and Patrick Heckmann (10) were also able to bag a double-digit haul.
Andrea Trinchieri commented: "There's not much to say. The only question mark before the game was: How focused will we approach this encounter? How serious will we take it? We started slowly, which was definitely as expected. But we buckled down and exploited Ulm's short rotation. When you win a game by 100:67, drain 76% of your twos and 43% of your threes, make 23 assists and only concede six turnovers – what more should I say?"
Brose Baskets now have two days without any training and, starting on Wednesday, begin preparing for the tough away game against third-placed EWE Baskets Oldenburg on Saturday, April 16, 2016 (tip-off: 8:30 p.m.).