Coburg
Brose Christmas donation for Coburg citizens in need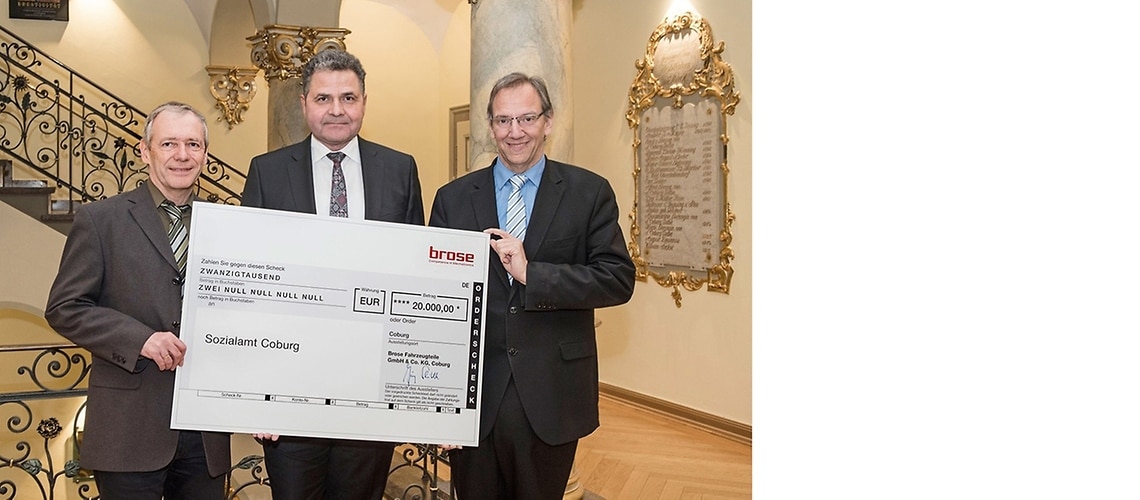 Coburg, 12-07-2017
Once more this year, our family-owned company is continuing the tradition of making a Christmas donation that was initiated by its founder, Max Brose, in 1961: Brose is providing €20,000 for people in Coburg who are suffering financial or social hardship. The aim is to give needy citizens quick and unbureaucratic assistance.
The donation check was presented in Coburg's Town Hall on December 7. "In the spirit of our founder, we not only assume responsibility for our employees, but also for people in our direct environment. That goes for citizens in Coburg and at our locations worldwide," stated Jörg Schwitalla, Vice President Human Resources. The Christmas donation is part of our company's commitment in the fields of sport, culture, education and social welfare.
The donation will enable the city of Coburg to help people whose plight is not covered by statutory social benefits. "There are situations where citizens get into difficulties through no fault of their own. We as an administrative authority are grateful to be able to provide quick and targeted help in such cases thanks to the support of third parties. Brose's Christmas donation gives us considerable freedom of action," stated Third Mayor Thomas Nowak.
The donations are allocated after an examination of the individual case in question by the Social Services Office of Coburg Council. For example, immediate aid can be granted after a fire in a home or water damage. People may also suffer a financial squeeze after an unexpected death of someone near them.
"Sometimes it's a big help to families if the faulty washing machine is replaced. Or to a pensioner when the electricity bill turns out to be higher and can be settled with the money from the donation," says Peter Schubert, Head of the Social Services Office of Coburg Council. Brose also gave Coburg €20,000 for this unbureaucratic aid last year.