Hockenheim
Christian Engelhart: Successful weekend on home track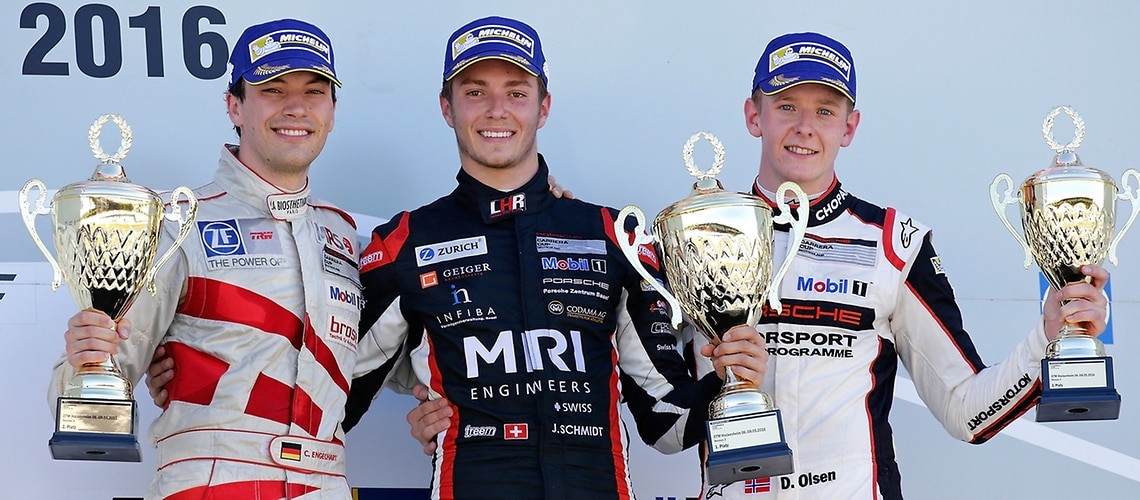 Hockenheim, 07-31-2016
Christian Engelhart capped his appearance on his home track by getting into the points after a fine performance in the Porsche Mobil 1 Supercup as part of the Formula 1 German Grand Prix at the Hockenheimring. He finished fifth to pick up a good haul in the championship. Christian Engelhart was not in the mood for doing things by half and picked up twelve important points in the overall standings. That means the pilot from Kösching is again among the top ten in the championship, despite the fact that he did not line up in Budapest last weekend. In qualifying on the Saturday, Christian captured fifth place on the grid in his MRS Porsche and so had high hopes of winning a place on the rostrum.
Thanks to a good start to the sixth race of the season over 14 laps, Christian quickly found his rhythm and attacked the fourth-placed pilot. However, the race was interrupted by a safety car phase and was eventually reduced to just nine laps. Following the restart, Christian was not only able to keep in touch with the leaders, but also reduce the gap. He ended up crossing the line in fifth to capture twelve points and move up to tenth in the championship ranking. After the summer break in the Porsche Mobil 1 Supercup, the second half of the season begins on the legendary Spa-Francorchamps track at the end of August. A further success could help Christian surge into sixth in the title race.
Speaking of the summer break: Christian will not have one this year. The reason: The next race in the ADAC GT Masters will be staged on the Eifel track on the Nürburgring this weekend. Christian is teaming up with Rolf Ineichen in this championship as well.