Monza
Christian Engelhart triumphs in Monza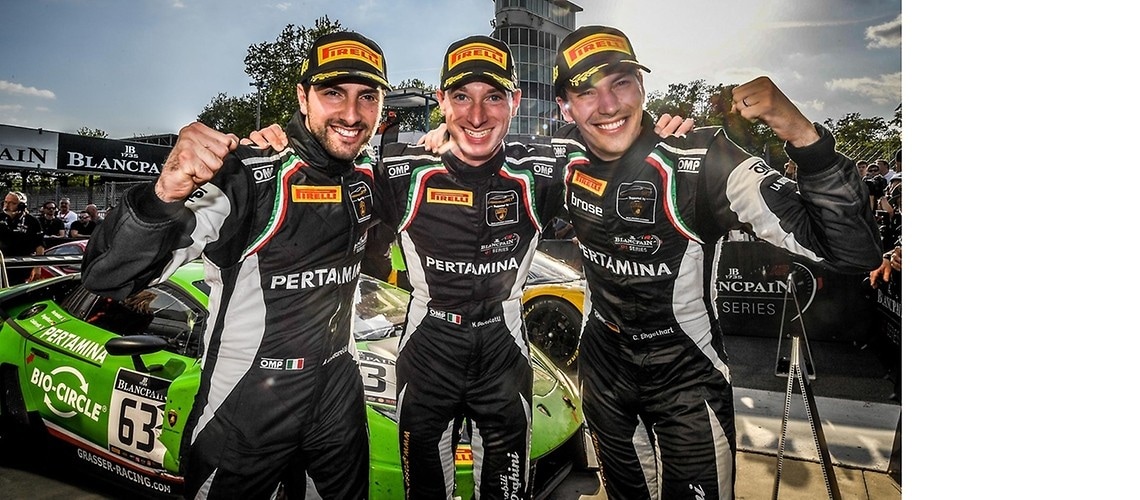 Monza, 04-23-2017
"It's a dream come true to win here with my team," is how the Lamborghini works pilot Christian Engelhart summed up his victory last weekend in the season opener in the Blancpain GT Series Endurance Cup on the Monza Formula 1 track. With this win under his belt, the driver from Kösching now embarks on the first weekend of racing in the ADAC GT Masters in Oschersleben, where Christian won the opening race with the Grasser Racing Team last year.
Backed by his team, the Bavarian pilot crossed the line first in the three-hour race on the legendary Monza Formula 1 track to get off to a perfect start to the season in Europe's fiercest long-distance competition. "This win was simply fantastic! I've been watching the series for a long time and I'm inspired by the standard of the competition. 52 GT3 sports cars from 11 brands were again in Monza. After my debut win last year on the Nürburgring, we've worked hard as a team to line up here. Getting the season off to such a start and winning in just my second race is brilliant – and, of course, very important for the championship," says a delighted Engelhart.
The victory at Monza was attributable to a tactical maneuver that was risky, but ended up being crucial. "We risked everything with our tire strategy so as to position our Lamborghini Huracan GT3 as far up in the field as possible in qualifying and yet leave freedom for tactical maneuvering in the race. The refined blend and rapport in the entire team, in which everyone fought to win, is what makes the GRT spirit so special. We took the lead thanks to our first pit stop, which was perfect!"
Christian will be back behind the wheel of GRT's Lamborghini this weekend. He aims to follow up last year's victory in the season opener of the ADAC GT Masters in the Magdeburger Börde. In 2016, he and Rolf Ineichen won on the opening weekend.