Spa Francorchamps
Christian is back – with a place on the rostrum in Spa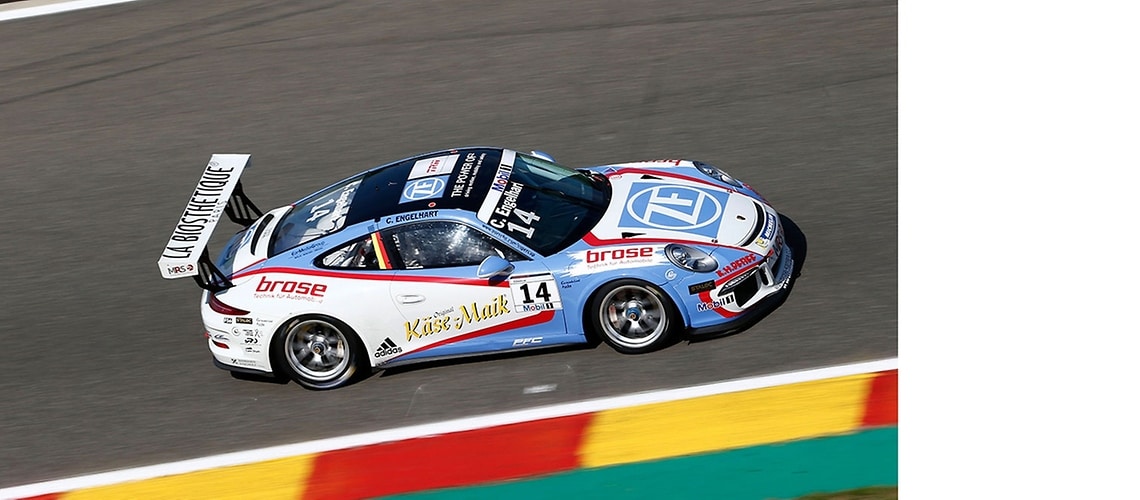 Spa Francorchamps, 08-28-2016
The weekend of racing on the legendary Spa Francorchamps circuit was unusually hot – and not just on the track. In the race as part of the Formula 1 event, Christian Engelhart ended up by being able to celebrate his first place on the rostrum in this season's Porsche Mobil 1 Supercup.
The almost exactly seven-kilometer track in Belgium is obviously one of the most popular in the calendar in the Porsche Mobil 1 Supercup. Yet with a total difference in elevation of more than 100 meters, it poses a real challenge for drivers and the Porsche 911 GT3 Cup. Christian tackled this seventh race of the season from third on the grid and was able to hold his own in intense duels.
"It was once again a typical Spa race. It was extremely tight and I was forced to drop back a position on the first lap. However, I saw at that very moment that the overtaking maneuver involved a violation of the track limits and that an advantage was gained from that. That's why I kept racing in a controlled manner."
Despite slight initial difficulties, Christian was able to defend his fourth place up to the safety car phase and attack after the restart with the full power of his 480-hp Porsche.
"My car ran very well from midway through the race. I was able to clock very fast lap times and so stick to our race strategy. That was a very good feeling."
The pilot from Kösching reaped his deserved and long hoped-for reward in the Porsche Supercup by finishing third. His 16 points from Spa mean that Christian has now moved up to seventh in the championship. As a result, he can get back in touch with the leading group in the standings with a similar success in Monza this weekend, despite that fact that he has competed in one race less due to an overlap with his other commitments.