Cesky Krumlov
Dinkel: Test in Český Krumlov supplies valuable findings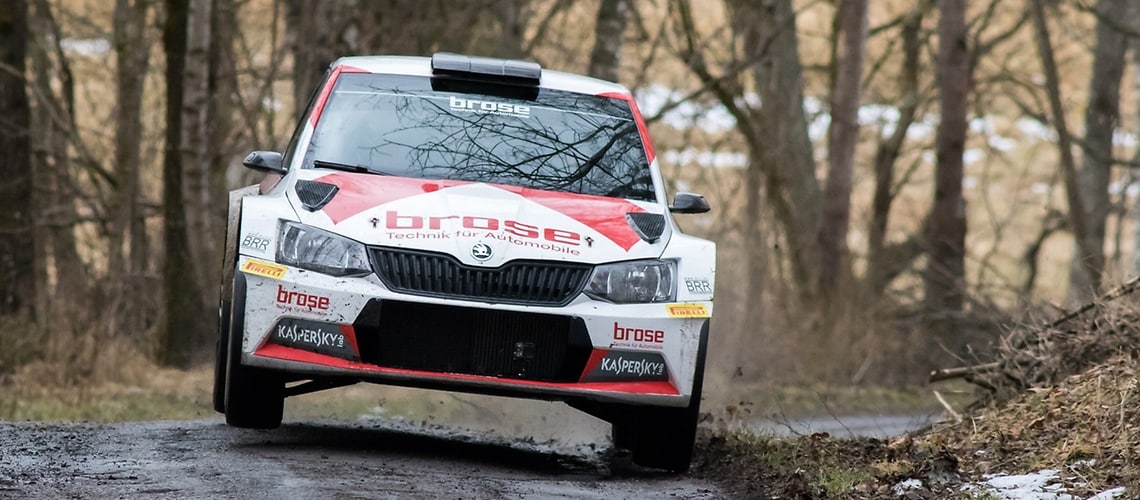 Cesky Krumlov, 02-22-2017
Dominik Dinkel and Christina Kohl complete their preparations for the ADAC Saarland-Palatinate Rally with a one-day test in the BRR Skoda Fabia R5.
Finally back on the road in a competition car – that warms the heart of the Brose Motorsport rally team. Thanks to the generous support of Brose Motorsport, 24-year-old Dominik Dinkel and his co-pilot Christina Kohl (29) will compete the entire new season in a state-of-the-art Skoda Fabia R5 used by Baumschlager Rallye & Racing (BRR).
On a highly selective 3-kilometer section of a trial in the Český Krumlov Rally, they today completed the almost 100-kilometer test drive without any problems under the watchful eye of Raimund Baumschlager, winner of a record 12 Austrian national rally championship titles and the head of the BBR team. After various chassis setups had been tried out, the main focus was on the "black gold" – the pallet of Pirelli tires.
"We had just about every option open to us with the car. Because we know from last year just how tough the conditions at the Saarland-Palatinate Rally can be and how quickly they can change," recalls Dominik Dinkel.
The Brose Motorsport rally team left a magnificent impression and will be a force to contend with at the Saarland-Palatinate Rally on March 3 to 4, 2017. Dominik Dinkel and Christina Kohl will go into the championship opener with the necessary respect, but feel excellently prepared for it following an intensive sports program, technical workshop and this day of testing.