Erlangen
Erlangen dominates EHF Cup winners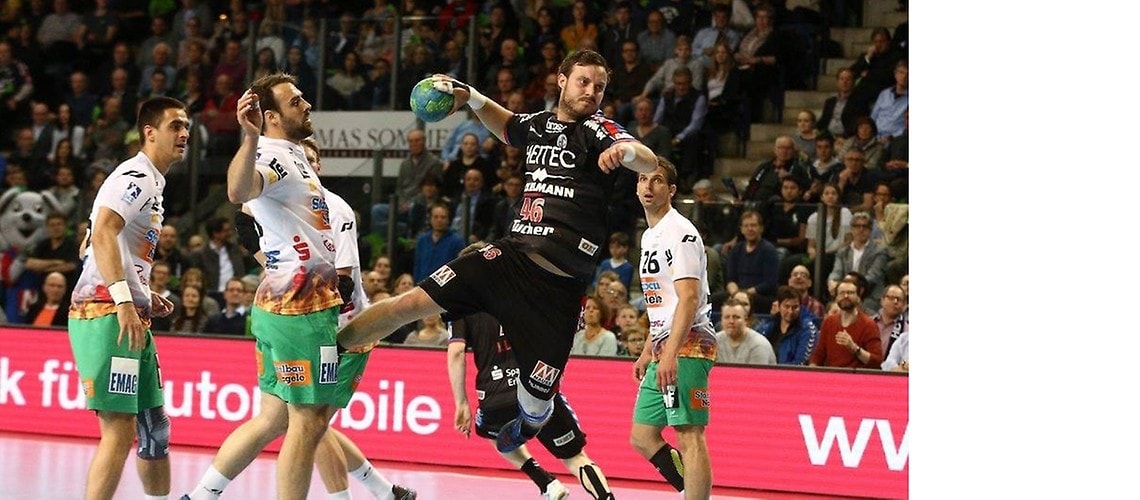 Erlangen, 04-23-2017
HC Erlangen defeated the reigning EHF Cup winners FRISCH AUF! Göppingen by 30:26 (15:11). The team of Head Coach Robert Andersson has tightened its grip on ninth place in the DKB German Handball League thanks to this win and now faces current German champions Rhine-Neckar Lions at home in the Nürnberger Versicherung Arena this Sunday.
It was clear from the week of training that HC Erlangen aimed to bounce back after the unnecessary defeat at Bergischer HC. The team led by captain Nikolai Link got off to a highly focused start. With two changes to its starting lineup (Guardiola and Herbst replaced Theilinger and Rahmel), the home side inspired the crowd in the ARENA from the very first minute. The club from Franconia very quickly built a three-goal cushion between it and the top-class international team from Swabia. The lead had grown to five by midway through the first half – the HC scored from just about every position in offense and Nikolas Katsigiannis played out of its skin between the posts. The goalkeeper became Man of the Match, saving 22 shots or 46 percent of all attempts. HC Erlangen went in at half-time with a highly deserved 15:11 lead.
The home side came out with the same energy, fight and passion and so extinguished any ray of hope FRISCH AUF! had kindled in the break. The HCE dominated the encounter commandingly and so not only overcame a brief weak spell midway through the second half, but also finally forced the visitors to their knees with its powerful and extremely agile play in offense. HC Erlangen now has 26 points and has strengthened its grip on ninth place in the "world's strongest league" – but now hosts the crème de la crème of German handball in its next two home games. Rhine-Neckar Lions, the reigning German champions and current league leaders, visit the Noris this Saturday. A little later, SG Flensburg-Handewitt will come to the Nürnberger Versicherung Arena to mark Family Day.
Robert Andersson commented: "I'm very proud of my team today because it showed the right response to the game at BHC. We were really very good today and now we can look forward to the big games here in our ARENA."